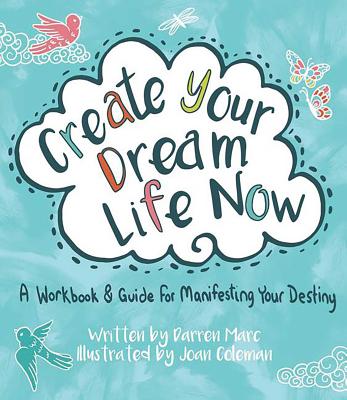 Create Your Dream Life Now (Paperback)
A Workbook and Guide for Manifesting Your Destiny
Health Communications Inc, 9780757321016, 144pp.
Publication Date: October 2, 2018
* Individual store prices may vary.
Description
Most people wait for that "perfect" moment to begin living for their dreams—a financial windfall, retirement, or perhaps a move to a new city—but sadly, that perfect time often never comes. Create Your Dream Life Now is a practical, but visually delightful illustrated workbook that encourages people to start living dream-filled lives now.

By incorporating powerful workbook exercises, guided meditations, and nine key wisdom tools, the book teaches readers how to dramatically transform the landscape of their lives in just twenty minutes a day. The deeply transformational content of Create Your Dream Life Now is offered in a simple, fun, and inspirational way that makes an ideal gift book.


Create Your Dream Life Now represents a midpoint between a visual poem and a detailed yet reader-friendly functional guide and workbook to spiritual practice. It stands out from other manifestation books by marbling practical exercises, interactive meditations, and spiritual reflection into the subject matter. The work of acclaimed artist Joan Coleman fills the pages of this four-color book, which includes sections on: Who You Are; Desire; Create Your Dream Life Now Meditations; Gratitude for the Now; Gratitude for the Future; Affirmative Prayer; Creative Visualization; Mindfulness Meditation; The 9 Keys to Creating Your Dream Life; Action; Synchronicity; Alignment; Faith; Wisdom; Prayer; Love & Service; Gratitude; Healing; Dream Week Living; and Dream Week Journal Pages.
About the Author
Joan Coleman (Bandon, Oregon) is co-owner of Ink Wonderland, LLC, a graphic design firm with clients that have included Disney, Target, Harley-Davidson, and Universal Studios. She has illustrated several children's books, including Kudzu for Christmas by Emily Eklin Khair and Marty and the Christmas Eve Surprise by Sharon Durgin. Darren Marc (New York) has been teaching yoga, meditation, and manifestation for over 10 years. A certified yoga instructor, he currently offers group yoga classes at the New York Health & Racquet Club and also leads spiritual retreats incorporating yoga, meditation, manifestation teachings, and sacred music. Darren is an ambassador for Yoga Gives Back, a nonprofit organization dedicated to raising awareness and funds to alleviate poverty in India. A veteran freelance writer, Darren is a former contributing columnist for LA Yoga magazine, and he was a staff writer at For Your Health magazine. A professional singer/songwriter, he has had over 30 original song placements in film and television. Visit his website at www.awakenwithdarren.com.