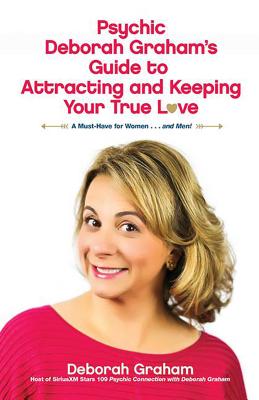 Psychic Deborah Graham's Guide to Attracting and Keeping Your True Love (Paperback)
Hci, 9780757321467, 192pp.
Publication Date: July 1, 2018
* Individual store prices may vary.
Description
From the Far East to the Mid-East to East L.A., love is the deepest desire of the human heart, yet often the most elusive. Throughout the centuries sages have sought a path to true love, but the host of SiriusXM Stars 109 Psychic Connection with Deborah Graham actually knows how to harness and hold onto it. Graham has shown many perpetual wayward daters how to navigate text messages and emojis to truly connect with their perfect match on a soul to soul level, and here she reveals how you can, too.
As a gifted psychic, Graham is able to read auras: she doesn't look at you, she looks in you. She has spent decades helping people find true and lasting love, and through this book she will coach you to do the same--to look past the outward fa ades that people project to the world, and to look inward, starting with yourself. By stepping you through a "spiritual cleansing," she will teach you how to purge past issues and baggage so that you are open and ready for real love.
Psychic Deborah Graham's Guide to Attracting and Keeping Your True Love includes her no-holds-barred advice and her tried-and-true relationship rules, including:
How to tell a psychic match from a physical oneHow to expand your awareness to what you need energetically in a life partnerHow to use the 3s dating rule to see if there is a match How to avoid the biggest first date saboteurs How to listen to your intuition and stop missing the glaring red flagsAnd how to know when it's time to say good-bye (not every person is "the one")