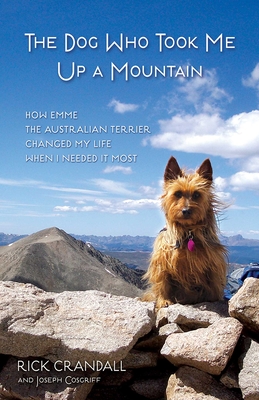 The Dog Who Took Me Up a Mountain
How Emme the Australian Terrier Changed My Life When I Needed It Most
Paperback

* Individual store prices may vary.
Description
The uplifting story of two unlikely mountaineers: a man in late middle age and a fearless pint-sized pup who, together, scale Colorado's highest peaks.

By the time life had finished hitting Rick Crandall from all sides, he was at the lowest point of his life, both personally and professionally. Depressed to find himself facing a mid-late-life age crisis and watching his finances crumble as the tech industry bubble burst, he hopes his future isn't headed downhill. It was at this critical juncture in their new marriage that his wife Pamela made an astute and life-changing suggestion: "Let's get a dog."

So begins the story of Emme, a 200-pound Saint Bernard trapped in the body of 5-pound Australian terrier puppy. Soon, Emme and Rick hit the hiking trails around Aspen, Colorado. While she is groomed to be a show dog, it's soon obvious that her heart is in the hills and with Rick, who decides to add more challenging hikes to the mix. Before long, they are scaling Colorado's "fourteeners," peaks with altitudes of over 14,000 feet. On one magical day, Emme climbs to the top of four "fourteeners," a quarter of the sixteen such peaks she will complete during her life without once being carried on a trail or on the rocks on the way to a summit.

In mountaineering Rick realizes he has found—in his late sixties—his life's new passion. This is where Emme has led him—out of the abyss and to the top of the mountain. She was never really walking behind: she was nudging him along until he found his stride. Even after Rick understood the glory of climbing, it was Emme still doing the leading, until Rick learned how to lead himself.
Praise For The Dog Who Took Me Up a Mountain: How Emme the Australian Terrier Changed My Life When I Needed It Most…
"An amazing journey. Congratulations. Your feat dwarfs others. Your book will be a major success, and it will inspire many into outdoor health, which is a mantra in Colorado."
—John Hickenlooper, former Colorado governor

"I enjoyed reading about Rick's adventures in the mountains with his best friend Emme. You should know that I love dogs. Not so crazy about men. But you don't have to love dogs or men to love this book and how it speaks to all of us."

—Richard Kind, actor

"I am hugely impressed by your ascents of the fourteeners and your approach to the book—never too late to find a new passion in life."

—Sir Chris Bonington, legendary mountaineer, author, lecturer, and still climbing in his 80s

***** Recommended

Loved it! This is a very good book well written and interesting. It is about Rick, a man in his 60's, that is re evaluating his life and where he wants to go from here. His wife suggests they get a dog to help fill in the missing spot in their lives. Along comes Emme, an Australian terrier, and she changes his life for the better. Together they start climbing mountains in Aspen, Colorado and along their life's journey he comes to realize things about himself. Makes you look at life a bit differently after reading this inspirational story.

Celticmist797 Bookbub reviewer

**** (4 stars) really liked it

Crandall's warm (and nearly unbelievable) recollections of her taking charge of bears, other dogs, and bulls are humorous, and her impact on his life is inspiring.

--- Greg Guarino

"It was amazing. A wonderful and touching book about the bond between a man and his dog. Once again we learn how wonderful dogs are and how they can improve our health and save our lives in so many ways. This book reminded me of another book called FOLLOWING ATTICUS. If you love dogs and want to better yourself, read this book for inspiration."
—Jolene, Goodreads reviewer and librarian

Delightful memoir of a man and his Australian terrier and their love of hiking Colorado's high peaks. This book hit several high notes for me–a great location, a pastime I love, and a dog with personality. Highly enjoyable for dog lovers. My only complaint is that I read the advanced reader's copy, and the photos were not included. Recommended.

— Patricia Cook, Educator

I love this book. A copy is going to each member of my family for Christmas. When I read the book it made me think about the passions in my life, including hiking with my dog, Billie.

— Judy Hamilton, author and wildlife photographer
Health Communications Inc, 9780757322686, 256pp.
Publication Date: October 8, 2019
About the Author
Rick Crandall was founder and CEO of the international technology company Comshare, Inc. Currently, he is Chairman of the Board of Donnelley Financial Solutions, as well as serving as Executive Chairman of Pelstar, LLC, a company that was cited for "Private Company Board of the Year" for 2016. He also serves on the boards of five other companies. Rick was named "One of the Five Leading Pioneers of the Computer Industry" and has received Outstanding Entrepreneur awards from both the University of Michigan, his alma mater, and Harvard Business School. A native of New York, Crandall now lives in Aspen, Colorado, where he is an avid mountain climber, cyclist, and skier, activities he has documented in blogs and in print publications.

Joseph Cosgriff is a writer and speaker who lives in New York City. He is the co-author (with jazz guitarist/vocalist John Pizzarelli) of World on a String: A Musical Memoir, a finalist for Audiobook of the Year in 2014. He also collaborated with clothier Richard Press on Rebel Without a Suit: The Not-So-Casual Road to Casual Friday (Antenna Books, 2015). Cosgriff is also a songwriter whose music was used as the theme of New Jersey Public Radio for six years and whose songs are played on jazz stations and occasionally featured in live performances by discerning musicians.
or
Not Currently Available for Direct Purchase