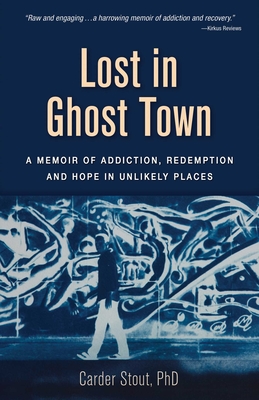 Lost in Ghost Town
A Memoir of Addiction, Redemption, and Hope in Unlikely Places
Paperback

* Individual store prices may vary.
Other Editions of This Title:
Digital Audiobook (3/9/2020)
Description
Psychologist to the Hollywood elite Dr. Carder Stout delivers a page-turning memoir about his fall from grace into the gritty underbelly of crack addiction, running drugs for the Shoreline Crips, surviving homelessness, escaping a murder plot, and finding redemption in the most unlikely of places.

Dr. Carder Stout's clientele includes Oscar-, Golden Globe-, Emmy-, Tony- and Grammy-winners, bestselling authors, and billionaires. He may not be able to share their dark secrets, but for the first time, everyone will know his.

At the age of thirty-four, Carder would have gladly pawned the silver spoon he was born choking on for a rock of crack. His downfall was as swift as his privilege was vast…or had he been falling all along?

Raised in a Georgetown mansion and educated at exclusive institutions, Carder ran with a crowd of movers, shakers, and future Oscar-winners in New York City. But words like "promise" and "potential" are meaningless in the face of serious addiction. Lost years and a stint in rehab later, when Carder was a dirty, broke, soon-to-be-homeless crackhead wandering the streets of Venice, California. His lucky break came thanks to his old Ford Taurus: he lands a job of driving for a philosophical drug czar with whom he finds friendship and self-worth as he helps deliver quality product to LA's drug enthusiasts, from trust-fund kids, gang affiliates, trophy wives, hip-hop producers, and Russian pimps. But even his loyalty and protection can't save Carder from the peril of the streets--or the eventual contract on his life.

From a youth of affluence to the hit the Shoreline Crips put on his life, Carder delves deep into life on the streets. Lost in Ghost Town is a riveting, raw, and heartfelt look at the power of addiction, the beauty of redemption, and finding truth somewhere in between.


Praise For Lost in Ghost Town: A Memoir of Addiction, Redemption, and Hope in Unlikely Places…


"This is a great read. I was deeply moved and inspired by the story. The writing is rich and poignant. I highly recommend it."

--Gwyneth Paltrow, Academy-Award winning actress, founder of goop

"Carder Stout's Lost in Ghost Town is a stark reminder that addiction knows no socio-economic bounds. His easy writing style, that seamlessly slips the reader between his childhood and his raging addiction to crack cocaine, reads like a cautionary tale with an emotional index of how to build an addict. It had me at the first hit."

--Will Arnett, five-time Emmy-Award nominated actor (Arrested Development)


"Lost in Ghost Town is equal parts memoir and thrilling true crime story. Beautifully written, I could not put it down. The interactions with the Seaside Crips and LAPD set my heart racing. For a descent into hell, it gives Dante's Inferno a run for its money. The most shocking part of Lost in Ghost Town is that Carder lived to write it all down. What a truly amazing story. I give it 5 stars."

--Thomas Lennon, actor and creator of Reno 911!, New York Times Bestselling Author of Ronan Boyle

"This is a compelling story that provides a unique lens into the dark world of addiction. It is well-written, captivating, and full of surprises. I believe it will have broad appeal."

--Jason Blum, Academy-Award nominated producer (Whiplash, Get Out, BlacKkKlansmen)

"I was blown away by this memoir. Carder breathlessly navigates his journey from a posh DC childhood to the Crips and crack subculture of a pre-gentrified Venice. This is a beautiful story about a young man trying to heal the wounds of a childhood born largely without guidance. I was particularly moved by his newfound family in California, tragically linked to a violent gang as well as the prostitute he falls in love with. Unpredictable, exciting, a true peek at a hardscrabble life lived on the streets day to day. I could not put this book down."

--Sam Trammel, Tony-Award nominated actor (True Blood, Homeland)

"I couldn't put it down. I loved the juxtaposition between Carder's desolate but privileged childhood and the dark despair of his life in the hood. The writing is powerful, direct and filled with color. This is a book that will touch so many."

--Craig Borten, Academy-Award nominated screenwriter (Dallas Buyer's Club)

"A blistering read and a powerful cautionary tale, Carder Stout has written an unforgettable memoir. It is intensely emotional and brilliantly written."

--Jeffrey Clifford, Academy-Award nominated producer (Up in the Air)

"Lost in Ghost Town is a gripping, haunting portrait of addiction that's impossible to put down. Carder Stout lays bare his soul as he recounts the privilege he was born into, and the pain that led him into the bowels of hell once crack and heroin had him in its vice grip. The triumph of the book is Carder's ever-present humanity. It's an addictive, heart-rending read. This is an astonishing story."

--Jessica Queller, executive producer and writer of Supergirl, bestselling author of Pretty Is What Changes

"With his storytelling Carder brings clarity, humor and compassion to a harrowing personal chapter. It's a book that many will relate to and all will find difficult to read and remain unmoved. This book is outstanding."

--Billy Crudup, Tony-Award winning actor (Almost Famous, Alien: Covenant)

"This incredible memoir is a powerful and heartbreaking look into addiction and everything that comes with it. Dr. Carder Stout crafts a harrowing yet beautiful story and deserves all of the praise it's received."

--Jennifer Todd, producer of The Academy Awards, executive producer of City on a Hill (Showtime)

"Lost in Ghost Town is a terrifying, hilarious, and ultimately moving cautionary tale. Like a modern-day Icarus, Carder Stout was born privileged, had to escape from a labyrinth, and flew too close to the sun. However, unlike Icarus, the labyrinth Stout escaped from was one of his own creation, and he miraculously survived to share his tale with the rest of us. He covers the distance from the top to the bottom unsparingly in this gripping, upsetting, beautifully written memoir."

--Jonathan Marc Sherman, award-winning playwright (Women and Wallace, Sophistry)

"This book is a must-read for anyone doubting the possibility of personal redemption. Full of psychological insight and expertly told with an entertainer's instinct for a riveting crazier-than-fiction story."

--Alessandro Nivola, Tony-Award nominated actor (Laurel Canyon, The Many Saints of Newark)
Health Communications Inc, 9780757323546, 304pp.
Publication Date: March 10, 2020
About the Author
Dr. Carder Stout, PhD, is a Los Angeles-based psychologist with a practice filled with A-list celebrities, bestselling authors and a few Hollywood billionaires. A graduate from Trinity College with a BA in creative writing, Stout continued on to earn a Master's degree in New Mexico, followed by a PhD in Psychology from Pacifica Graduate Institute in Santa Barbara. Additionally, Stout produced three award-winning independent films which gave him a unique ability to work with a variety of clients from the entertainment industry, which eventually led him to becoming the therapist to the stars. After succumbing to addiction to alcohol and cocaine, Carder began recovery and is now sober for over a decade. Carder works with at least one Pro bono client from an underprivileged community each month as a way to give back to those who supported him during his homelessness and addiction. Carder Stout is a frequent wellness contributor to Gwyneth Paltrow's lifestyle website Goop and has been featured on Larry King, Good Day LA and Us Weekly. He is also a regular contributor to The Huffington Post and superstar musician Alanis Morissette's health and wellness site Alanis.com. For more information about Carder and his practice go to http://drcarderstout.com/
or
Not Currently Available for Direct Purchase