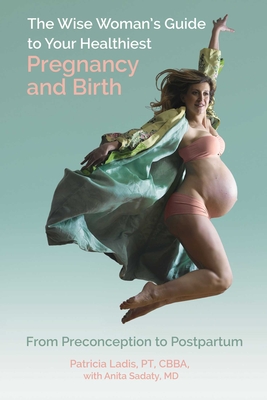 The Wise Woman's Guide to Your Healthiest Pregnancy and Birth
From Preconception to Postpartum
Paperback

* Individual store prices may vary.
Description
A fresh, new pregnancy guide—the first complete functional medicine book—offering women and their partners a comprehensive approach to maintain and enhance health and wellness before, during, and after pregnancy.

The Wise Woman's Guide to Your Healthiest Pregnancy and Birth combines the expertise of top-tier physical therapist Patricia Ladis—who works with superstar athletes, professional dancers, and celebrities—with Dr. Anita Sadaty, a highly regarded holistic ob-gyn with a celebrity clientele. Together, they have devised a six-step protocol beginning the six months before conception continuing forty days post-birth and beyond, incorporating holistic principles that encourage optimal wellness for mother, partner, and baby. Whether they are in their 20's, 30's or 40's, this book empowers readers to be in tune with their bodies during all stages of pregnancy, and is the first book by a functional medicine dream-team aligning medical and structural body issues to avoid such potential pregnancy outcomes as osteoporosis, sciatica, pelvic prolapse, structural weakness, and postpartum depression.

Each of the six stages organizes Ladis and Sadaty's holistic principles into five easy-to-follow aspects: Body, Movement, Breathing, Nourishment, and Wisdom. They include practical applications such as foods to help reduce internal inflammation, specific exercises—with instructive photos—in each stage, breathing techniques to lower stress, and "pearls of wisdom" backed by science exploring a multicultural history of this special time in a woman's life. For the first time, a pregnancy guide considers the importance of choices you make six months prior to conception, and the effect on genes. When both members of a couple are calm, fit, and well-nourished, the latest science suggests that together they are less likely to pass on negative genes to a child.
Praise For The Wise Woman's Guide to Your Healthiest Pregnancy and Birth: From Preconception to Postpartum…
"The advice in The Wise Woman's Guide to Your Healthiest Pregnancy and Birth is invaluable, hard to find elsewhere, and simply a precious gift to moms and our future generations."

—Elissa Epel, PhD, coauthor of The New York Times bestseller The Telomere Effect

"I experienced firsthand Patricia's unparalleled talent, as both an athlete recovering from injury, and as a new mother navigating how to safely regain my strength. This book weaves together the most critical information for any woman embarking on the journey of motherhood, regardless of stage or age. I have no doubt it will become essential reading for generations."

—Jenna Lee Babin, journalist and founder of SmartHer News

"Having too often witnessed the dis-ease of pregnancy, my hope is that The Wise Woman's Guide becomes integrated into all aspects of a woman's clinical care, from preconception to postpartum. This book speaks from a place of wisdom, and its holistic approach has been the spark for innumerable healing journeys in athletes, patients, and especially mothers. The foundational approach to breathing, movement, and nourishment in this book provide the basis for the journey of a lifetime."

—Brian Hainline, MD, NCAA chief medical officer, professor, New York University Department of Neurology, co-editor, Neurological Complications of Pregnancy

"The Wise Woman's Guide to Your Healthiest Pregnancy and Birth made me want to have another baby, even though I already have three boys! All too often, pregnancy is a time filled with fear and trepidation when it should be a period of magic, wonder, healthfulness, empowerment, and confidence. The insights, medically founded advice, holistic perspective, and sheer wisdom inside this book are delivered with strength and grace, providing words women must hear as they embark upon pregnancy."

—Laura Gentile, senior vice president of marketing, ESPN, and founder, espnW
Health Communications Inc, 9780757323706, 448pp.
Publication Date: January 5, 2021
About the Author
Patricia Ladis, PT, CBBA, is a licensed physical therapist, founder of WiseBody PT, and the co-founder of The First 1000 Days of Wellness, a global educational platform for practitioners, spas, and consumers to promote perinatal wellness and prevent non-communicable diseases in future generations. Patricia was the co-founder of KIMA Center for Physiotherapy & Wellness, one of New York City's most highly regarded PT and wellness centers. Patricia was also a professional dancer and as a physical therapist has been helping pregnant dancers and athletes get back on stage or sport after pregnancy since 1999. She has worked with the Rockettes, various Broadway shows including Fosse, Lion King, and Movin' Out, the American Ballet Theatre, and Paul Taylor Dance Company, and currently consults with the United States Tennis Association (USTA) and Women's Tennis Association (WTA), including working at the US Open regularly. Patricia is building a new protocol for women returning to high-level sport after pregnancy and has designed the exercise program for the first-ever postpartum early exercise study coming out in 2021/2022 with the Hospital for Special Surgery and the Weill-Cornell Medical Center. She has appeared in articles in Forbes, Vogue, Men's Health, Thrive Global and Ladies' Home Journal. TV appearances include NBC and CBS, and she regularly appears on Sirius XM's Doctor Radio. As an active delegate of the Global Wellness Summit and chair of the First 1000 Days Initiative for the Global Wellness Institute, Ladis has support from wellness centers around the world, including Six Senses, Canyon Ranch, Rancho La Puerta, and Borgo Egnazia. Visit her website at patricialadis.com.

Anita Sadaty, MD, is a holistic practitioner and founder of Redefining Health Medical, a women-focused medical practice that combines conventional medical training with an integrative functional medicine approach. A graduate of Cornell Medical and a board-certified ob-gyn, Dr. Sadaty is also recognized as a Certified Medical Practitioner by the Institution for Functional Medicine. She was a founding member of the Kresser Institute ADAPT Functional Medicine Training program in 2016. In addition to maintaining a full-time private practice, Dr. Sadaty is involved in residency training education at Northwell Hospital and is a clinical assistant professor at Hofstra Medical School. She serves as an expert reviewer for women's reproductive health articles featured in Verywellhealth.com and was recently named as one of the best obstetrics and gynecology physicians on Long Island, New York, in Best of Long Island. She has appeared in numerous newspaper articles, magazines, and professional publications to discuss various topics in women's health. Visit her website at www.drsadaty.com.


or
Not Currently Available for Direct Purchase