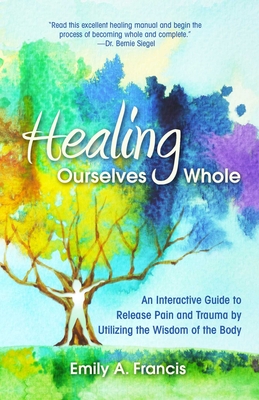 Healing Ourselves Whole
An Interactive Guide to Release Pain and Trauma by Utilizing the Wisdom of the Body
Paperback

* Individual store prices may vary.
Description
Healing Ourselves Whole will give you the tools you need to clean your emotional house from top to bottom, complete with journal prompts and access to audio meditations for you to listen along to as you read.

As a trained body worker, Emily Francis offers a refreshing perspective into healing trauma. She reveals unique knowledge of the body as a holder for memory. Emily will lead you on a path deep within yourself to rearrange the ways that pain and trauma have been holding you back from whole body, mind, spirit, and energy healing. You will rearrange the dialogue within your body memory systems as well as learn a practice to re-birth by healing your inner child and adolescent selves, coming into the present to create the best adult self possible.

This groundbreaking interactive book contains a journal and access to audio meditations for you to listen to as you read. The meditations will help you dig deep into past trauma and discover when and how trauma took root. Learn to get in touch with various parts of the physical and energy body, and how to use them to let go of stored traumas and rediscover the deeply held joys that have also been stored within the body. From this, you will learn to live from a new mindful and powerful space.
Praise For Healing Ourselves Whole: An Interactive Guide to Release Pain and Trauma by Utilizing the Wisdom of the Body…
"Emily Francis' book says it all. I had to learn as a surgeon about the power of the mind and how the body believes what the mind conceives. Also the truth is that we truly heal ourselves. When people have an unexpected recovery doctors call it a spontaneous remission, but as Emily reveals, it is not spontaneous but rather self-induced. We all have the potential to achieve healing with the correct coaching and our showing up for practice. Read this excellent healing manual and begin the process of becoming whole and complete." --Bernie Siegel, MD author of Love, Medicine & Miracles, No Endings Only Beginnings, and When You Realize How Perfect Everything Is

"Placing the tools and strategies for self-healing directly in readers' hands, Emily offers clear, experiential wisdom honed from years of personal work and study. As a yoga therapist, I often look for resources that will empower my clients and I will be recommending this, my favorite of all her books! This universally applicable volume of healing protocols will take any who use it into optimal wellbeing." --Jennie Lee, author of Spark Change, True Yoga, and Breathing Love

"There's no question: the health of our body is intricately connected to our emotional self. In order for true healing to occur, we must focus on our physical and emotional wellbeing. In Healing Ourselves Whole, Emily Francis connects the dots between thoughts and feelings—particularly the most deep-seated ones—and the body's physical response. This heartfelt book is a must-read for anyone struggling to free themselves from years of negative emotions so that happiness, joy, and health can become a daily truth. Emily holds your hand like a trusted friend throughout the process, encouraging you to journal, meditate, and go deep into yourself to release the emotional chains once and for all and to achieve healing on its deepest level." -- Dr. Debbie Palmer, author Mindful Beauty

"Healing Ourselves Whole takes you beyond the symptoms into the root cause of physical and emotional imbalances. It is a perfect blend of Eastern and Western ideas spun into tangible steps so that readers can feel held, supported, and empowered by the process. This book is ideal for professionals and individuals looking to tap into the wisdom of their own bodies. It serves as an incredible resource for healing and feeling whole again." --Sherianna Boyle, author of Emotional Detox for Anxiety

"Much like the jocular sage of Tibetan Buddhism, Emily disguises profound wisdom in a light-hearted tour of her own experiences as a bodyworker and healer. Yet, this is a book for the ages and, perhaps, for the sages too. In it are all the tools of the greatest healers: the wisdom of cause and effect, the magic of therapeutic metaphor, the curative intent of the most powerful shaman. Emily brings to conscious expression both the causes and the cure and carries us along with her. Hers is an exquisitely sensitive prescription for a process of helping and healing that eventuates in a whole, happy and self-determining human being." --Steve Bierman M.D., author of HEALING – Beyond Pills & Potions

"Emily A. Francis has written an extraordinary book to help us heal from the inside out." -- Elizabeth Hamilton-Guarino, CEO of The Best Ever You Network and best-selling author

"It is difficult to effectively communicate ephemeral, experiential knowledge to facilitate deep, lasting healing through the printed word, but Emily Francis has succeeded. In her inspiring book, she shares the culmination of her life's work (thus far) so we can become liberated through her unique tracking system that then becomes ours forever. There were so many singular elements I could highlight that illuminated stuck points including trusting the body's ability to simply be healthy, visualizing the relationship between guilt and shame as playing out an abuse cycle, cutting the cords, joy as the fountain of youth, and so much more. Under her powerful guidance you become fluent in the language of your body, so you deeply know who you joyfully and healthfully are. Thank you, Emily Francis, for this gift." --Bridgit Dengel Gaspard, LCSW, author of The Final 8th: Enlist Your Inner Selves to Accomplish Your Goals

"Emily Francis takes a deep dive into the sinew of emotional pain and gets to the visceral origin of emotional toxicity with a universal language to heal our broken, misaligned bodies. Years of toxic emotional pain that have built up and crippled our ability to function optimally are given an equally powerful blow of transformative recovery through specific techniques and exercises that Emily guides you through. How we process the traumas of life determines our overall wellness; this book will help you undo what has perhaps been the cause of your chronic physical or mental pain. Kudos to Emily Francis for this juggernaut of self-healing." --Roberto Tostado M.D, author of WTF is Wrong with Our Health: A Rebel Physician's Manifesto for Reversing Disease and Increasing Smiles
Health Communications Inc, 9780757323775, 256pp.
Publication Date: May 11, 2021
About the Author
Emily A. Francis is a highly sought-after speaker, author, and wellness expert with an array of education and experience. Her knowledge of the body as well as the body/mind connection is extensive and her commitment to total body, mind, and spirit wellness is her driving force. She believes in a whole body, proactive approach to wellness where balance is the key, and kindness paves the way.

Emily is the host of the internet radio show All About Healing on Healthy Life Radio. She has a Bachelor's degree in Exercise Science and Wellness as well as a Master's of Science in Physical Education with a concentration in Human Performance. She graduated from the Atlanta School of Massage in clinical and neuromuscular massage therapy and went on to specialize through the Dr. Vodder School North America in manual lymphatic drainage and combined decongestive therapy, working specifically with lymphedema. She is a Usui & Karuna Ki Reiki master level practitioner.

Emily is originally from Atlanta, GA, and currently resides in Malta.