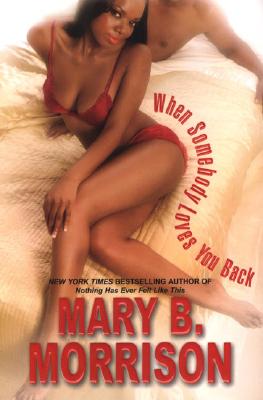 When Somebody Loves You Back (Soulmates Dissipate #6)
Paperback

* Individual store prices may vary.
Other Editions of This Title:
Mass Market (7/1/2008)
Description
From national bestselling author Mary B. Morrison comes a powerful, sexy story about life's ups and downs--and the wondrous ways in which love can save the day.  .  . 
  This latest page-turner from the national bestselling author of Nothing Has Ever Felt Like This and Somebody's Gotta Be On Top follows the adventures--romantic and otherwise--of philanderer-turned-fiancé Darius Jones, and asks the perennial question: Why do fools fall in love?.  .  .  
  With some high-profile legal trouble behind him and a promising NBA career ahead of him--plus his engagement to his spirited soul mate, the irrepressible Fancy Taylor--former playboy Darius Jones is back on top. But bad news soon threatens to take him right back down. If his HIV result received years ago was a false negative, Darius may have infected countless women, including the now-pregnant Fancy. 
    When Darius's wealthy stepfather falls gravely ill, the outcome leaves Darius's mother, Jada, in a deep depression--and deeply dependent on Candice, an opportunistic writer friend who has less than her best interests at heart. But Jada isn't Darius's only concern. He's hiding a potential health issue of his own--one that could cost him his professional future, and his relationship with Fancy.  
    Worried about his mother, not to mention himself, Darius takes a time-out to go back home and care for her. There, thanks to Candice's nosiness--and negligence--he discovers a shocking truth about the bombshell secret he has been carrying. His discovery, along with the arrival of his biological father, Darryl, sends Darius on a mission that includes a revealing visit to an ex-lover.  .  .. As for Fancy, with Darius re-tracing his past and their wedding plans on hold, she decides it's time to do some cleaning up of her own.  .  . 
    With their futures and their hearts on the line, and storm clouds gathering, it may be hard to see the silver lining, but for Jada and Darryl, and Fancy and Darius, it just might be love.  .  .
Dafina, 9780758207319, 320pp.
Publication Date: July 1, 2007
About the Author
Mary B. Morrison, a recipient of the AAMBC Francis Ray Trailblazer Award, is the New York Times bestselling author of more than twenty-five novels about women who shape their own destinies. A frequent public speaker and motivator, she is a SheSource Expert and host of The HoneyB Morrison Show on Worldstar Hit Radio and Celebrity Media TV. She is also the playwright and Executive Producer of the theater production based on her HoneyB novel, Single Husbands. Female empowerment is the focus of all Mary's work, and she is the founder of Healing Her Hurt, a non-profit that promotes the emotional, physical, and financial health of marginalized women and girls by providing self-empowerment tools, resources, and education. The proud mother of the award-winning children's book author Jesse Byrd Jr., Mary lives in Atlanta, GA and can be found online at MaryMorrison.com.