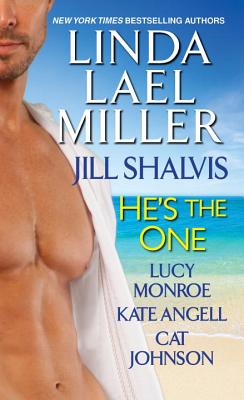 He's the One (Mass Market)
Kensington, 9780758210951, 352pp.
Publication Date: June 25, 2013
* Individual store prices may vary.
Description
Linda Lael Miller
Batteries Not Required

Contrary to popular opinion, Gayle Hayes's love life is out of service. But when she returns to her small Montana hometown, rodeo bad boy Tristan McCullough gives her a whole new lesson in power surge. . .

Jill Shalvis
Captivated

James Scott warned his investigator ex-wife Ella to be more careful. Now he finds the irate woman nearly naked and handcuffed to the towel rack in his Mexican vacation condo. He should release her. Then again. . .

Lucy Monroe
Seducing Tabby

Everybody always wants Tabby Payton's beautiful sister. But not sexy English spy Calder Maxwell. He wants Tabby, body and soul, and he's willing to take seduction to new levels to prove it. . .

Kate Angell
No Shirt, No Shoes, No Service

Violet Cates is done with surfing beach bums. She's ready for a new wave, someone with more ambition than a grain of sand. Like Brad Davis. He looks like a beach bum, but looks can be so deceiving. . .

Cat Johnson
Fish Out of Water

Carla Henricks is a cowgirl through and through, but her lasso has never met an English professor like Mark Ross. It's true opposites attract. Staying together is the juicy part. . .
About the Author
Linda Lael Miller is the award-winning author of many bestselling novels, including Courting Susannah, One Wish, and the Springwater Seasons series, as well as her acclaimed vampire romances, the first two of which are collected in Out of the Shadows.

New York Times bestselling author Jill Shalvis has written over two dozen romance novels. She's a three time National Reader's Choice award winner, a RITA and Holt finalist, and has numerous romantic comedy awards, including: Career Achievement in Love and Laughter from RT Book Reviews, and the Mad Cap Award. Her previous books include: The Sweetest Thing, Smart and Sexy, To All a Good Night. Jill lives with her family in Truckee, California (near Lake Tahoe). Visit her website at jillshalvis.com.

USA Today bestseller, Lucy Monroe happily lives in the gorgeous Pacific Northwest where green isn't just the predominant color of nature, but a lifestyle choice for many. She thinks it all ties into the same hopeful attitude she finds in romance: the belief that happy endings are as real as tragedy and love carries more power than any other emotion. Sure it takes work and dedicated commitment, but that's what real romance is all about and she believes in it. Hot, gut-wrenching romance with alpha heroes and strong heroines that readers want to love and identify with.

She finds inspiration everywhere, but nowhere more consistently than in her own life-long passionate, but never boring love affair. Her own personal hero has proven time and again that alpha men know how to love and even a lifetime isn't long enough to enjoy that love when it's real.
Devoted to her family, she loves to spend time with them – her sisters and her daughters are her BFFs and always will be. Now that the fitness bug has hit them all, they're as likely to be found going for a power walk together as getting mani-pedis at her favorite salon.

She's as much a reader as an author and chances are your faves are in her TBR pile too. She's always delighted to meet and talk with other readers and hopes you'll stop by one of her social pages to chat.

USA Today bestselling author Kate Angell lives in Naples, Florida. She's an animal lover, avid reader, and sports fan. Bookstores are her second home. She takes coffee breaks at Starbucks. Her philosophy: Out of chaos comes calmness. Enjoy the peace. Please visit her on Facebook or at www.kateangell.com.
or
Not Currently Available for Direct Purchase