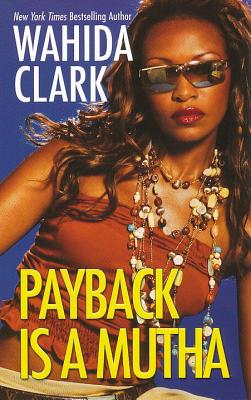 Payback Is a Mutha (Paperback)
Dafina Books, 9780758212542, 288pp.
Publication Date: April 1, 2009
Other Editions of This Title:
Paperback (4/1/2006)
* Individual store prices may vary.
Description
In this gritty urban drama, New York Times bestselling author Wahida Clark tells the story of a woman who thinks she has everything, but who really has everything to lose--starting with her best friend, and ending with her life. . . Brianna and Shan couldn't be more different. From her $1,200 weave to her closet full of Gucci, Prada, and Chanel, Brianna believes that men were born to bankroll her lifestyle. Shan likes to make her own money by working for a living at a men's prison--and prefers Sean John, Baby Phat, and Fubu to Jimmy Choo. Still, despite appearances, Shan and B are sisters where it counts--or so they think. . . For B, lying is part of the hustle, and the hustle is what gets her sex, clothes, cars--pretty much whatever she wants. She couldn't care less who gets hurt along the way, as long as it isn't her. But it's one thing to hustle tricks, and quite another to betray the one person who really cares. When one of B's schemes goes too far, blood is spilled--and Shan is caught in the crossfire. Now, with friendship and lives on the line, Brianna's got one last chance to change her ways--or suffer the consequences. . .
About the Author
Wahida Clark was born and raised in Trenton, New Jersey. She decided to write fiction while incarcerated at a women's federal prison camp in Lexington, Kentucky. Crowned the "Queen of Thug Love Fiction" by Nikki Turner, the "Queen of Hip Hop Fiction" herself, Wahida's style of writing is the template for urban literature. When you read her novels, they are so real that you are convinced of one of three things: you know the characters, you want to know the characters, or you are one of the characters. Her bestselling novels include Thug Matrimony, Every Thug Needs a Lady, Thugs and the Women Who Love Them, Payback Is a Mutha, and the novella Enemy in My Bed in Sleeping with the Enemy, all published by Kensington/Dafina Books.
or
Not Currently Available for Direct Purchase