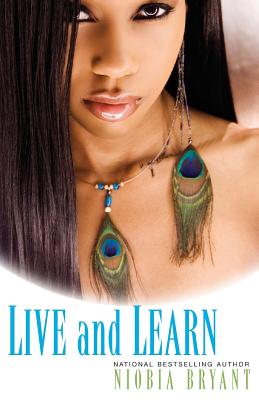 Live and Learn (Friends & Sins)
Paperback

* Individual store prices may vary.
Other Editions of This Title:
Mass Market Paperbound (2/1/2010)
Description
It's 24/7 money to burn. It's fancy houses, designer clothes, and luxury cars. It's leaving no-pay jobs and crumbling projects to have everything mad cash flow can buy. And best friends Alize, Dom, Moet, and Cristal will do anything to get the glamorous life--and put the past in the rear-view mirrors of their brand-new whips. A savvy and smart business major, Alize had her childhood shattered by the divorce of her parents and is determined to never fall in love and risk being hurt. Dom learned early to use her sizzling-hot body to make much bank--and find an escape from her too dark looks and drug-addicted mother. Disillusioned by the faith and strict parents she grew up with, Moet figures hooking up with powerful men is now the real way to heaven. And streetwise Cristal has a master plan to get the security she never knew as a foster child.
To make these dreams come true, these sistahs will go after the East Coast's biggest movers-and-shakers--superstar rappers, mega-successful moguls, and powerful thugs-for-life. But between the wild times and wilder men, one of them is going to gamble one time too many, one will play a player too far, one will take a dangerous chance, and one will face a hard real-deal choice. To survive, they'll have to depend on each other and remember who they truly are to learn that the real good life doesn't cost a thing. . .
"Sexy as sin. . .provocative. . .explosive. Four stars "--Romantic Times on Heavenly Match
"Sizzles " -Black Expressions Book Club Review on Three Times a Lady
"A very strong three-heart read."--Romance Reader on Admission of Love
Kensington Publishing Corporation, 9780758217202, 278pp.
Publication Date: March 1, 2007
About the Author
Niobia Bryant is the national bestselling and Romantic Times award-winning author of more than thirty "Sexy, Funny & Oh So Real" novels. When it comes to writing, Niobia dabbles in many genres, her ideas are unlimited, and the ink in her pen is infinite. A proud native of Newark, New Jersey, Niobia currently resides in South Carolina where she writes full-time. For more on this author who "can't stop, won't stop," visit www.niobiabryant.com, follow her on Twitter @InfiniteInk, or search for her on Facebook: Niobia Bryant.