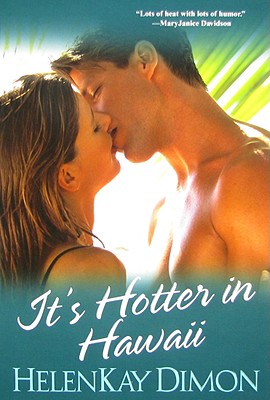 It's Hotter In Hawaii (Men of Hawaii #2)
Paperback

* Individual store prices may vary.
Description
Aloha, Gorgeous. . .

Cassie Montgomery was in no mood for messing around--until she got an eyeful of the sizzling-hot miscreant breaking into her half-brother Dan's Hawaii home. Turns out he's not a criminal, but a friend who's just as suspicious of Dan's "accidental" death as she is. Cassie's beyond tired of bashing heads with thick-skulled local law enforcement, so there's only one thing for it: team up with Caleb Wilson, and try to keep her secrets--and hands--to herself. . .

Having a gun trained on him is nothing new for Cal. But when said gun is brandished by a goddess sporting short-shorts, a bad attitude, and a hidden agenda? A man should consider his choices very carefully. Option one: Seduce first, ask questions later. Option two: Find out why she's in his Air Force buddy's torn-up house, then seduce her. Option three: Let the islands do their work and let the woman behind the weapon seduce him. . .
Brava, 9780758222275, 320pp.
Publication Date: April 1, 2009
About the Author
HelenKay Dimon balances her day job as a divorce lawyer with her love of reading and writing romance. She was a two-time finalist in Lori Foster's online Brava Novella Contest and hasn't stopped writing since. HelenKay and her husband, James, live in Maryland.