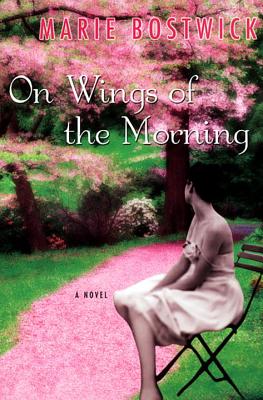 On Wings of the Morning
Paperback

* Individual store prices may vary.
Other Editions of This Title:
Hardcover, Large Print, Large Print (4/1/2008)
Description
Marie Bostwick delivers a captivating novel of soul mates discovering each other as the country faces its greatest challenge. . .

Morgan Glennon's destiny points straight up into Oklahoma's clear, blue sky. It's been that way since he was four years old, imagining the famous flier father he's never met. Morgan leaves college to enlist as a Navy pilot, and his whole world suddenly changes when America goes to war. Watching his friends fall in battle, robs Morgan of the joy he always felt in the air. It will take one very unusual woman to help him get it back. . .

Georgia Jean Carter learned early never to rely on a man for anything but trouble. Airplanes are different: they take a girl places most boyfriends can't. Remarkably, the war makes it possible for Georgia to do her part as a pilot. Flying with the WASPs brings a special sense of belonging--yet there's something missing that Georgia doesn't recognize until a brief encounter sets her dreaming about a young flyboy she barely knows. . .

Praise for Marie Bostwick and Fields of Gold

"A touching story." --Patricia Gaffney

"Captivating and hauntingly beautiful. . .a true gem." --Romantic Times, 4 ½ stars

"A gripping, heartwarming story." --Dorothy Garlock on Fields of Gold
Praise For On Wings of the Morning…
"Marie Bostwick's ON WINGS OF THE MORNING is a gripping, evocative read that will set your heart to soaring into the turbulent skies of WWII. Watch Marie's star rise. This is one very talented writer." –
New York Times
bestselling author Debbie Macomber
"This solid WWII era romance from Bostwick puts two self reliant pilots, both of whom nurse childhood hurts, on the same flight path . . . Bostwick fills out their destinies satisfyingly and delivers tempting brushes with intimacy at all the right moments before the end-of-war denouement." –Publishers Weekly
" . . . Bostwick does an excellent job of telling the story of the WASP. Since this novel doesn't need to be read as a sequel, it is recommended for most fiction collections." –Library Journal
"Bostwick's sequel to her debut novel, Fields of Gold, is a one-of–a-kind find, the sort of book that completely transports you to another place in time. This wonderful story has the complete package: romance, drama and a fast-paced, seamless plotline." –RT BOOKreviews, 4½-star Top Pick Review
"This story was a fascinating concept with a beautiful ending and lovely writing." – ArmchairInterviews.com
"Marie Bostwick has penned a powerful novel about the early days of the last World War. From page one this reviewer was mesmerized by Ms. Bostwick's narrative and the magnificent way she quilts together her fiction with fact. Morgan and June and their families are solid and real people you would like to know personally. This is a beautiful tale of love and loss, hope and faith." – Betty Cox, ReadertoReader.com
"[ON WINGS OF THE MORNING] is an uplifting and spirit-nurturing read."  – Fresh Fiction
"Ms. Bostwick's language is poetic and beautiful in its own right. She twists words to create images that stay with the reader long after the book is finished. Her characters make one believe in soulmates and the idea that things happen for a reason. Her belief in love is awe-inspiring and although, she states that the story is fictional, one can imagine that this type of life altering love affair happens to people around the world." – Romance Designs
"Marie Bostwick weaves a mesmerizing tale that is most absorbing. Her story takes the reader on a flight to a marvelous journey not forgotten." – The Romance Studio
"This incredible rare read brings a happy tear to the eye and a special sensation to the heart.' – Coffee Time Romance 
"ON WINGS OF THE MORNING took me back to a simpler time in American history, but one in which people loved as much, still made mistakes, but had a common purpose. So much of it reflected what those interviewed for Ken Burns' latest film, "The War" said about the era." – Jayne, DearAuthor.com
"ON WINGS OF THE MORNING is a beautiful story about love and loss."  – Bookloons.com
"ON WINGS OF THE MORNING still ranks as one of the most beautiful and most romantic stories I have read in a long time. Unlike many writers, Bostwick does not rely on mental lusting to convince readers that her story is a romance, but instead dives deeply into her characters' hearts to tell a much more emotional story. This quality, together with her obvious delight in her historical setting, make for an unforgettable story." – Lynn Spencer, All About Romance
"This is a gentle and touching love story, a sequel to Fields of Gold, the story of Morgan's mother, but it works excellent as a standalone novel. It's a book to savor and enjoy." – CurledUp.com
Kensington, 9780758222565, 288pp.
Publication Date: November 1, 2007
About the Author
Marie Bostwick Skinner was born and raised in the northwest. In the three decades since her marriage, Marie and her family have moved frequently, living in eight different states at eighteen different addresses, three of them in Texas. These experiences have given Marie a unique perspective that enables her to write about people from all walks of life and corners of the country with insight and authenticity. Marie currently resides in Connecticut where she enjoys writing, spending time with family, helping out at church, gardening, collecting fabric, and stitching quilts. Visit her at www.mariebostwick.com.