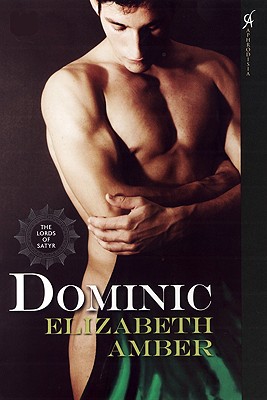 Dominic
The Lords of Satyr
Paperback

* Individual store prices may vary.
Description
They are Satyrs, men endowed with legendary carnal knowledge who demand total and complete control with their sexual prowess. . .
A Night Of Bliss
Emma anxiously awaits her husband's return home to Tuscany on Calling night. She hopes that the night-long copulation will draw them closer together for she questions whether they truly love one another. But when Carlo arrives, injured in battle and unable to perform, she learns she must mate instead with Dominic, a lusty, royal Satyr. It is a night of hedonistic passion that leaves her wanting much, much more. . .
A Moment Of Rapture
Like other Satyr lords, Vincent is driven to mate from dusk to dawn every Calling night. But as a bachelor, Vincent must conjure a female from the mist who will satisfy his sexual needs. While his brothers summon a different partner with each full moon, Vincent calls upon the same one time after time. He wants her to experience the same erotic pleasure he feels and one night she does--the magic is real. . .
Dominic
5 stars reviews from Romance Junkies; Coffeetime Romance; Whipped Cream; Kwips & Kritiques Top Pick, Paranormal Romance
Praise for Elizabeth Amber and NICHOLAS. . .
"A steamy, hot tale that scorches the pages. Amber's imagination skyrockets "
"--Coffee Time Romance"
"Highly erotic. . .kept me spellbound."
"--Joyfully Reviewed," 5 stars, Recommended Read
"The leading man is the sexiest one this reader has seen in a long time "
"--Romantic Times" BOOKReviews
Praise for RAINE . . .
"One of the the strongest heroines I have ever read . . . great, erotic sex. "
--"TwoLips Reviews" - 5 lips, Recommended Read
"This is a must read book for 2008 " --"ParaNormal Romance" reviews
Praise for LYON . . .
"Unputdownable" --"Paranormal Romance Reviews, " Top Pick
"An extraordinary read" --"Coffeetime Romance, " 5 stars.
Aphrodisia, 9780758225818, 256pp.
Publication Date: March 1, 2009
or
Not Currently Available for Direct Purchase