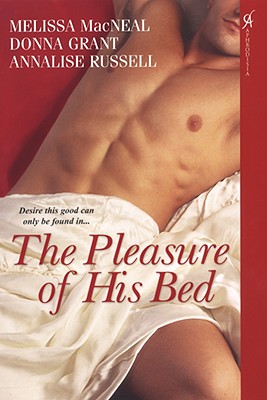 The Pleasure of His Bed (Paperback)
Aphrodisia, 9780758228543, 297pp.
Publication Date: September 1, 2008
* Individual store prices may vary.
Description
Naked, bound and aroused beyond their wildest imaginations, the women in these three stories prove how delicious complete surrender is. . . The Captain's Courtesan Melissa MacNeal A seafaring adventure turns wickedly sinful when stowaway Sophia Martine is caught and confined to the captain's quarters. What privateer Damon Delacroix doesn't know is how much Sophia longs to be dominated. But soon it is Damon who is enslaved as he gives up all control and embarks on a wild journey of carnal pleasure. . . Ties That Bind Donna Grant Queen Jarina never imagined that the foul play which brought her to the enemy kingdom of Pereth would also make her a willing love slave, eager to fulfill her master's every desire. Now Jarina's only wish is to satisfy her master's insatiable appetite. . . In His Bed Annalise Russell In exchange for safe passage on his ship, Chessa strikes a daring bargain with Bodin--a dangerously handsome Viking--to become his sex slave and see to his needs. But she soon learns that to live under Bodin's command is to submit to the most sensual, skilled lovemaking she's always dreamed of. . . Annalise Russell is a true romantic, right down to her toes. She's been an avid reader of romance novels since she started sneaking them out of her mother's closet as a teenager. Writing, in one form or another, has been a way of life since high school thanks to the encouragement of teachers and professors along the way. A social psychologist by degree, she's a member of a behavioral sciences research team and loves to people watch when in public. She lives in the gorgeous state of Idaho with her husband, two kids, and two neurotic dogs.
or
Not Currently Available for Direct Purchase