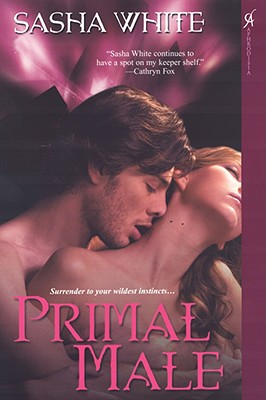 Primal Male (Paperback)
Aphrodisia, 9780758228611, 249pp.
Publication Date: December 1, 2008
Description
Primal Power
An empath with the ability to sense others' emotions, Drake Wheeler has survived by keeping his own feelings shut off from the world. But nothing has prepared him for the sudden smoldering need that overtakes him in the presence of pureblood shape shifter Melissa Montrose. Even more surprising--he can't sense anything around the sultry bookstore owner. . .except for his fierce urge to take her here, now, over and over again. . .
Primal Heat
Melissa has lived her life in a small town, hiding her family's mysterious birthright. A fling with the sexy tourist who wanders into her bookstore seems like a delicious, temporary diversion, until Drake touches her in exactly the way she craves, teasing and tempting every inch of her body into explosive ecstasy. Drake's obviously a man with secrets, but Melissa's got a few of her own, and she's going to show him just how wild and raw pure, primitive desire can be. . .
Outstanding Praise for Sasha White. . .
"Fans of 9 1/2 Weeks will get a delicious thrill from this kinky, titillating tale." --Romantic Times on Bound
"White stretches her imagination to places this reader cannot wait to go " --LovesRomance.com
"Count on Sasha White to deliver first-rate, blistering passion." --Suzanne McMinn.
About the Author
Sassy women and sexy men are what Canadian author Sasha White's stories are all about. After fifteen years as a bartender she's decided the stories in her head needed to be put down for other people to enjoy as well. Gifted with a salacious imagination, Sasha has over a dozen erotic stories published in print or electronically, with many more to come.
Advertisement