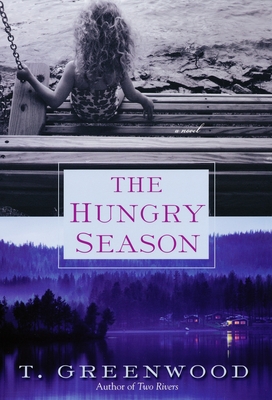 The Hungry Season (Paperback)
Kensington, 9780758228789, 384pp.
Publication Date: February 1, 2010
* Individual store prices may vary.
Description
It's been five years since the Mason family vacationed at the lakeside cottage in northeastern Vermont, close to where prize-winning novelist Samuel Mason grew up. The summers that Sam, his wife, Mena, and their twins Franny and Finn spent at Lake Gormlaith were noisy, chaotic, and nearly perfect. But since Franny's death, the Masons have been flailing, one step away from falling apart. Lake Gormlaith is Sam's last, best hope of rescuing his son from a destructive path and salvaging what's left of his family.

As Sam struggles with grief, writer's block, and a looming deadline, Mena tries to repair the marital bond she once thought was unbreakable. But even in this secluded place, the unexpected--in the form of an over-zealous fan, a surprising friendship, and a second chance--can change everything.

From the acclaimed author of Two Rivers comes a compelling and beautifully told story of hope, family, and above all, hunger--for food, sex, love and success--and for a way back to wholeness when a part of oneself has been lost forever.

Praise For T. Greenwood's Two Rivers

"A dark and lovely elegy, filled with heartbreak that turns itself into hope and forgiveness. I felt so moved by this luminous novel." --Luanne Rice, New York Times bestselling author

"T. Greenwood's writing shimmers and sings. . ." --Marisa de los Santos, New York Times bestselling author of Belong to Me and Love Walked In

"A memorable, powerful work." --Garth Stein, New York Times bestselling author of The Art of Racing in the Rain

"Greenwood is a writer of subtle strength, evoking small-town life beautifully while spreading out the map of Harper's life, finding light in the darkest of stories." --Publishers Weekly

"A sensitive and suspenseful portrayal of family and the ties that bind." --Lee Martin, author of The Bright Forever and River of Heaven

"A haunting story. . .Ripe with surprising twists and heartbreakingly real characters. . .remarkable and complex." --Michelle Richmond, New York Times bestselling author of The Year of Fog and No One You Know

"A complex tale of guilt, remorse, revenge, and forgiveness. . . Convincing. . . Interesting. . ." --Library Journal

"Two Rivers is the story that people want to read: the one they have never read before." --Howard Frank Mosher, author of Walking to Gatlinburg
Book Videos
Discuss the role that hunger plays in this novel. Of what significance is the title? How does it relate to the Mason family and their summer spent on the lake?
As Sam struggles to overcome writer's block, he creates Billy, a fictional character involved in Ancel Keys's "Great Starvation Experiment" conducted during World War II, which was designed to study the effects of starvation and the most effective methods of refeeding a starved population. How does Sam relate to Billy? What does this suggest about the creative process?
How does Sam's struggle with writer's block relate to his sexual impotence?
What is Mena's role in this family, and how does it change with Franny's death? Explore her relationship with Sam and her attraction to Jake. What does she need in order to heal?
How does Mena and Sam's marriage compare to the other marriages in the novel? How are they the same as or different from Effie and Devin and Monty and Lauren? What can they learn from both couples?
Discuss the role of food in this novel.
Saving Finn from self-destruction is the supposed reason that Sam moves his family to Vermont for the summer. Do you think that Finn needs saving? Why or why not? Do you think they could have arrived at the same place if they had stayed in California?
Alice is, in many ways, a surrogate for Franny. Do you think that the Masons get a second chance with Alice? Discuss Finn's relationship with both Franny and Alice.
Finn claims to smoke pot to help him sleep at night. Do you believe that's the real reason? Is he smoking as a way to deal with Franny's death, or as normal teenage rebellion? If he hadn't turned to marijuana to cope, would Sam have still moved the family to Lake Gormlaith?
Dale Edwards is, for all intents and purposes, stalking Sam. What is driving her? What does she hope to get from Sam? What is she hungry for? Does she get the nourishment she needs?
At the center of the novel is Franny, though she has already died by the time the novel opens. What do you know about Franny? How do you explain what happened to her, given her family background? Is her family culpable in her death? And are they able, in the end, to forgive themselves and one another?
Do you think that Mena and Sam chose to let Franny pursue her dreams at whatever cost? Were they better or worse parents for not getting in the way of her ambitions? Was there a point where they should have?
If you were a member of the Mason family, how would you have dealt with Franny's eating disorder? Do you think you would have noticed it before it was too late? Have you known anyone with an eating disorder? Discuss how it informed your reading of The Hungry Season.
How do you feel about Dale? How do Sam and Mena feel about her, after everything that happened? What did they learn from her? What was her role in their grieving process and their reunion?
Have you read or seen a production of Fool for Love, the Sam Shepard play in which Mena stars? Does the onstage relationship between Eddie and May mirror Sam and Mena's? How does Mena's participation in the play influence her marriage?
Consider all of the characters separately: Sam, Mena, Finn, Alice, and Dale. With whom do you most identify? Why?
or
Not Currently Available for Direct Purchase