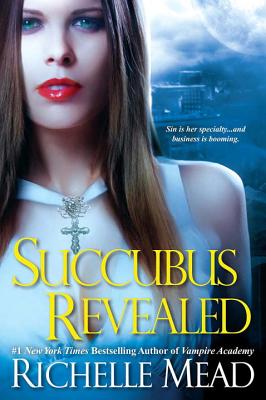 Succubus Revealed (Georgina Kincaid #6)
Paperback

* Individual store prices may vary.
Other Editions of This Title:
Mass Market Paperbound (8/29/2017)
MP3 CD (8/16/2016)
Description
In Georgina Kincaid, succubus and she-demon, #1 New York Times bestselling author Richelle Mead has created one of her most enticing characters. But with a shot at love, and maybe even redemption, is the ultimate seductress finally going soft? Like hell she is. . .

Georgina Kincaid has had an eternity to figure out the opposite sex, but sometimes they still surprise her. Take Seth Mortensen. The man has risked his soul to become Georgina's boyfriend. Still, with Lucifer for a boss, Georgina can't just hang up her killer heels and settle down to domestic bliss. In fact, she's being forced to transfer operations. . .to Las Vegas.

The City of Sin is a dream gig for a succubus, but Georgina's allies are suspicious. Why are the powers-that-be so eager to get her away from Seattle--and from Seth? Georgina is one of Hell's most valuable assets, but if there's any way out of the succubus business she plans to take it--no matter how much roadkill she leaves behind. She just hopes the casualties won't include the one man she's risking everything for. . .

Outstanding Praise for Richelle Mead

"The obvious heir to the Twilight throne." --The Dailybeast.com

"This is one of those series I'm going to keep following." --Jim Butcher on Succubus Blues
Kensington, 9780758232014, 288pp.
Publication Date: September 1, 2011
About the Author
Richelle Mead is an international bestselling author of fantasy books for both adults and teens. Her Georgina Kincaid series follows a reluctant succubus, while her Dark Swan series features a shamanic mercenary caught up in fairy affairs. Over on the young adult side, Richelle writes the much-acclaimed Vampire Academy series and its spin-off, Bloodlines, about a secret society keeping the vampire world hidden from humans.

Richelle's books have been on the New York Times and USA Today bestseller lists and received honors from the American Library Association. Her books have been translated into over two dozen languages, as well as transformed into graphic novels. A lifelong reader, Richelle loves mythology and wacky humor. When not writing, she can be found spending time with her family, buying dresses, and watching bad reality TV. More at: www.richellemead.com.