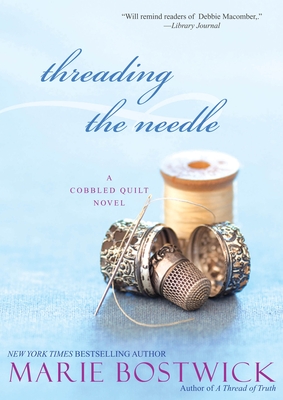 Threading the Needle (Cobbled Court Quilts #4)
Paperback

* Individual store prices may vary.
Other Editions of This Title:
Digital Audiobook (5/30/2011)
MP3 CD (5/31/2011)
Compact Disc (5/1/2012)
Compact Disc (5/31/2011)
Description
From New York Times bestselling author Marie Bostwick comes a beautiful novel of sisterhood lost and found--and of the ways we create the rich tapestries that encompass the past and the future... 

The economic downturn has hit New Bern, Connecticut, and Tessa Woodruff's herbal apothecary shop, For the Love of Lavender, is suffering. So is her once-happy thirty-four-year marriage to Lee. They'd given up everything to come back to New Bern from Boston and start their business, but now they're wondering if they made the right decision. To relieve the strain, Tessa signs up for a quilting class at the Cobbled Court Quilt Shop, and to her surprise, rediscovers the power of sisterhood--along with the childhood friend she thought she'd lost forever...

Madelyn Beecher left New Bern twenty years ago and never looked back. But when her husband is convicted of running a Ponzi scheme and she's left with nothing but her late grandmother's cottage, she is forced to return to the town she fled. Unfortunately, the cottage is in terrible shape. Madelyn's only hope is to transform it into an inn. But to succeed, she'll need the help of her fellow quilters, including the one friend she never thought she'd see again--or forgive. Now Madelyn and Tessa will have to relive old memories, forge new ones, and realize it's possible to start over, one stitch at a time--as long as you're surrounded by friends...

Praise for Marie Bostwick and her Cobbled Court Novels

"Bostwick is a topnotch storyteller...Enjoy hours of storytelling that will warm your heart and help renew your belief that people can be good, if given the chance."  --Armchair Interviews

"Heartwarming...Bostwick's contemporary New England quilters series is an unbreakable thread of friendship and faith."  --Publishers Weekly

"As their tenuous bonds grow stronger, each woman discovers how much they can help each other with life's many challenges. Bostwick's writing is warmly nourishing, emotionally compelling...quiet yet powerful." --The Chicago Tribune

"The women in A Single Thread will feel like your own girlfriends--emotional, funny, creative and deeply caring.  It's a story filled with wit and wisdom. Sit back and enjoy this big-hearted novel, and then pass it on to your best friend." --Susan Wiggs, New York Times bestselling author

"Bostwick beautifully captures the very essence of women's friendships--the love, the pain, the trust, the forgiveness--and crafts a seamless and heartfelt novel from them."  --Kristy Kiernan, author of Matters of Faith

"[A] buoyant novel about the value of friendship...a tantalizing book club contender."  --Publishers Weekly

"Bostwick's series continues to introduce interesting characters and compelling stories that show an appreciation for female friendship as well as a love for the art of quilting. Readers who have exhausted Jennifer Chiaverini's Elm Creek Quilt novels or Clare O'Donohue's Someday Quilt mysteries will definitely enjoy Bostwick."  --Library Journal

"...Uplifting." --RT BookReviews 4 star review

Kensington, 9780758232175, 368pp.
Publication Date: June 1, 2011
About the Author
Marie Bostwick was born and raised in the northwest. In the three decades since her marriage, Marie and her family have moved frequently, living in eight different states at eighteen different addresses. These experiences have given Marie a unique perspective that enables her to write about people from all walks of life and corners of the country with insight and authenticity. Marie currently resides in Portland, where she enjoys writing, spending time with family, gardening, collecting fabric, and stitching quilts. Visit her at www.mariebostwick.com.
As a young teenager, Tessa Kover was both intrigued by Madelyn Beecher being "simultaneously cautious and careless" and rejecting of her for being needy and "weird." In what ways could you identify with Tessa? With Madelyn?
Madelyn Beecher Baron's upbringing impacted her later life decisions. How have your upbringing and your family affected your decisions? What messages or beliefs have you had to overcome? What values or beliefs from your childhood have worked well for you?
Madelyn and Tessa both return to New Bern after being gone for many years. Madelyn returned resentfully because she had nowhere else to go and no other way to live. Tessa moved back to fulfill a dream. Have you ever left a place or situation that you later returned to for one reason or another? How did you feel about returning? How did the return work out for you?
Madelyn proves she's determined, resourceful, and courageous, but she doubts her worthiness, intelligence, and contributions. New Bern residents, especially Tessa and Jake, help her see she matters. What are some of your strengths? What are some of your challenges? How have family or friends helped you see yourself differently? How have you supported others to see themselves differently?
Financial struggle and fulfilling a dream play key roles in Threading the Needle. How has financial struggle led you in a direction you might not otherwise have considered, like Madelyn? Describe a time you had to defer or give up a dream, like Tessa, because of finances. How did this change in direction work out for you?
Tessa's mother used to say, "Enough is as good as a feast." How do you feel about "enough"? Is it a feast for you, or do you aspire to more than enough, and why?
Jake Kaminski, rumored to be a ladies' man, shares his story of recovery from alcoholism with Madelyn, and he offers her unconditional support. Why does he do this? How does this help Madelyn?
Jake tells Madelyn, "You know, Madelyn, it's the easiest thing in the world to tell somebody what they want to hear, but it takes a real friend to tell somebody what they need to hear." Do you agree? Why or why not? Have you ever been in a position of telling a friend something the friend didn't want to hear? What was the result? How did it affect your friendship?
Many of the characters in the Cobbled Court series own a business. If you could start your own business, what kind of business would that be? What do you think are the benefits and challenges of working for yourself? Do you think your personality is suited for being a business owner? Why or why not?
Thinking about the failure of her retail business, the first time Tessa had failed at anything, Tessa says, "Maybe that's the lesson in all of this: Stick to what you know, color inside the lines." Do you think this is depression talking, or has Tessa's business failure changed her attitude, her outlook on life? Have you ever failed at anything, and if so, how did it change your attitude, your approach to life? Your willingness to take on new challenges?
When Tessa was younger, her mother advised her to "Enjoy the little things in life, Tessa. One day you may look back and realize they were the big things." Do you think that is true? If so, what little things in your life have you realized are truly the big things?
Madelyn realizes after opening her bed-and-breakfast, which so many New Bern residents supported, that, "This is what it's like to be part of something, of some place. This is what it's like to care." What have you been part of that's been meaningful to you? In what ways have you cared for others?
Madelyn finds her childhood quilt in the Beecher Cottage attic. Tessa pays to have it repaired, and then the quilt end up on one of the beds in Madelyn's bed-and-breakfast. Discuss the symbolism of quilting in the story and to its characters. Near the end of the book, the quilters decide to make a baby quilt for Angela, who was also betrayed by a man. What's the significance of this scene?