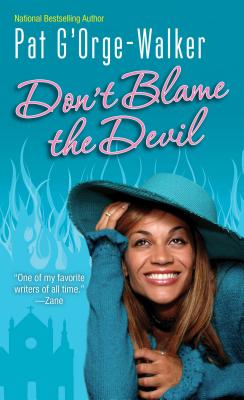 Don't Blame the Devil (Mass Market)
Dafina, 9780758235435, 336pp.
Publication Date: January 6, 2015
Other Editions of This Title:
Paperback (9/1/2010)
* Individual store prices may vary.
Description
Hang on to your seat as Pat G'Orge-Walker spins a side-splitting novel of sin and salvation, heartache and love.  .  .
Appearances mean everything to Delilah Dupree Jewel. So after hearing of her daughter-in-law's sudden death, Delilah decides that coming to the rescue of her long-estranged son, Jessie, and her granddaughter, Tamara, would be a good look.  .  .though Lord knows she'll have to dig hard to find her maternal instincts.
But Delilah quickly discovers Jessie wants nothing to do with her. And Tamara, who's following in Delilah's musical footsteps, isn't interested in her career advice, especially since Delilah got ahead using the singing couch. And Delilah's old flame, Deacon Pillar, an ex-convict who's traded in his gangster ways for a Bible, is stirring up a past that's sure to shock...
"Hilarious faith-based romp.  .  .Walker shines a little light on a wacky family reunion with her usual inspirational, knee-slapping style." --Publishers Weekly
"A comic novel about mistakes and second chances." --Library Journal
About the Author
Pat G'Orge-Walker is the Essence® bestselling author of almost a dozen novels and contributed a short story to the anthology Proverbs for the People. Growing up a preacher's kid gave G'Orge-Walker a quirky perspective on the church community and inspired her to create a one-woman comedy show centering on Sister Betty, an elderly super saint whose un-Christian-like behavior blocks her blessings.  With the success of the Sister Betty comedy show, G'Orge-Walker turned her humor and imagination to writing. Visit her online at SisterBetty.com, Twitter @ PGOrgeWalker, and Facebook.
or
Not Currently Available for Direct Purchase