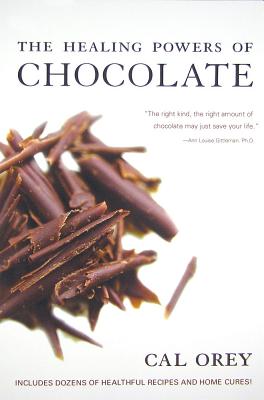 The Healing Powers of Chocolate (Paperback)
Kensington, 9780758238207, 304pp.
Publication Date: January 1, 2010
* Individual store prices may vary.
Description
DISCOVER THE AMAZING POWERS OF CHOCOLATE!

Did you know?. . .

• Known as Mother Nature's "food of the gods," the medicinal benefits of chocolate were recognized as far back as 4000 years ago.



• Eating chocolate can help boost the immune system, lower the risk of heart disease, cancer, diabetes--even obesity!--and increase lifespan.



• A 1.5 ounce bar of quality chocolate has as much antioxidant power as a 5 ounce glass of wine--without the side effects of alcohol.



• Chocolate is chock-full of mood-enhancing ingredients, including phenylethylamine (the "love drug") and serotonin.



• Chocolate can relieve a host of ailments, including depression, fatigue, pain and PMS, as well as rev up your sex drive!

Drawing on the latest scientific research as well as interviews with medical doctors and chocolatiers, this fascinating book reveals how to live longer and healthier while indulging in one of nature's most decadent and versatile foods. Explore real chocolate (infused with fruits, herbs, and spices), Mediterranean-style, heart-healthy recipes, plus home remedies that combat everything from acne to anxiety. You'll also discover rejuvenating beauty and anti-aging spa treatments--all made with antioxidant-rich chocolate!

"Can dark chocolate boost brain power? This book shows you how regular intake of antioxidant-rich cacao foods is likely to do just that, and more."
--Ray Sahelian, M.D., author of Mind Boosters
About the Author
Cal Orey is an accomplished author and journalist. She has a master's degree in English from San Francisco State University, and for three decades has written hundreds of articles for national and international magazines. She specializes in topics such as health, beauty, nutrition, relationships, science, and pets. Her books include The Healing Powers of Olive Oil, The Healing Powers of Coffee, The Healing Powers of Honey, The Healing Powers of Chocolate, The Healing Powers of Vinegar, 202 Pets' Peeves, and Doctors' Orders. She lives in Northern California. Readers are invited to visit her website at calorey.com, read her blog The Writing Gourmet at calorey.blogspot.com, find her on Facebook, and follow her on Twitter.
or
Not Currently Available for Direct Purchase