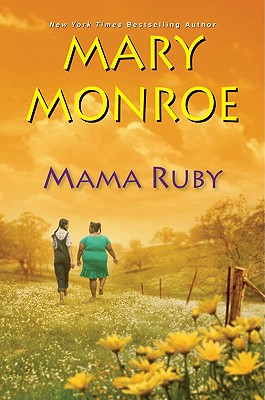 Mama Ruby (A Mama Ruby Novel #2)
Hardcover

* Individual store prices may vary.
Other Editions of This Title:
Paperback (2/1/2012)
Hardcover, Large Print (10/21/2011)
Paperback (1/27/2015)
Description
New York Times
bestselling author Mary Monroe presents an unforgettable tale featuring the rebellious early years of Mama Ruby, the indomitable heroine of her acclaimed novel
The Upper Room.
Growing up in Shreveport, Louisiana, Ruby Jean Upshaw is the kind of girl who knows what she wants and knows how to get it.  By the time she's fifteen, Ruby has a taste for fast men and cheap liquor, and not even her preacher daddy can set her straight. Only Othella Mae Cartier, daughter of the town tramp, understands what makes Ruby tick.
When Ruby discovers she's in the family way, she's scared for the first time in her life. After hiding her growing belly, Ruby secretly gives birth to a baby girl at Othella's house. Othella talks Ruby into giving the child away--and with the help of a shocking revelation, convinces Ruby to run off with her to New Orleans.
But nothing can erase Ruby's memories of her child--or quell her simmering rage at Othella for persuading her to let her precious baby go.  Someday there will be a reckoning. And Othella will learn that no one knows how to exact revenge quite like Ruby Jean Upshaw.  .  .
Dafina, 9780758238610, 336pp.
Publication Date: June 1, 2011
About the Author
Mary Monroe, the daughter of sharecroppers, is the author of the award-winning and New York Times bestselling God series that includes God Don't Like Ugly and God Don't Make No Mistakes, among other novels. Winner of the AAMBC Maya Angelou Lifetime Achievement Award and the PEN/Oakland Josephine Miles Award, Mary Monroe currently lives in Oakland, California, and loves to hear from her readers via e-mail at AuthorAuthor5409@aol.com. Visit Mary's website at MaryMonroe.org.
Do you think that if Ruby's overly religious parents hadn't been so strict, she would not have been so promiscuous and eager to be part of Othella's wild crowd?
By hiding her pregnancy for the entire nine months, Ruby jeopardized her own health as well as her baby's. Do you think she should have told at least one person she was pregnant in case she had some serious complications?
Do you think that Ruby should have defied Simone and Othella and kept the baby that she gave birth to at Othella's party? Do you think that it was wrong for Simone to turn the baby over to that asylum orphanage to keep her rom being "shunned" by Ruby's family and friends for being a "rapist's" child?
If Ruby had kept her baby, do you think her parents would have accepted her story about an escaped convict raping her, and him being the baby's father?
There were several hints along the way that Ruby's Biblethumping father, Reverend Upshaw, was a philanderer.  Were you surprised when Ruby and Othella caught him in bed with Othella's mother?
Ruby used the knowledge of her father's affair as leverage against him, so he eagerly allowed her to quit school and move from Shreveport to New Orleans with Othella. Do you think that Reverend Upshaw should have confessed his indiscretion to his wife, and not let Ruby blackmail him into letting her leave home?
Once Ruby and Othella made it to New Orleans and couldn't find a motel room, they got so desperate they trusted a stranger and agreed to spend the night in his residence. But when Glenn Boates tried to force Othella and Ruby into a sexual situation with him, he made it clear that he was not going to take no for an answer. Do you think Ruby's retaliation, castrating Glenn with her switchblade, was too severe. If so, what do you think she should have done to stop him from assaulting her and Othella?
After Ruby and Othella escaped from Glenn Boates, things went from bad to worse for them. Their only choices were to go back home, live on the streets of New Orleans, or work in Miss Maureen's brothel. Do you think that they should have returned to their parents' homes?
During the time period that this story is set in, it was unacceptable for a black person to "sass" a white person, let alone assault one. Were you glad that Ruby didn't let that stop her from standing up for herself when she had to deal with hostile whites? Do you think she went too far when she beat up the man who had attacked her and Miss Maureen?
Once Othella and Ruby were kicked out of the brothel, they joined a carnival and moved to Florida, and eventually found husbands. Their plan was to forget about their sordid pasts as prostitutes and live wholesome lives. Othella's husband, Eugene, did not treat her well. But Ruby's husband, Roy, treated her like a queen, until she caught him with another woman. Instead of trying to reason with Ruby when she confronted him, Roy viciously attacked her with his fists—even though she was eight months pregnant. Did Ruby overreact by shooting him with the same gun that he made her carry for protection?
During her pregnancy, Ruby had convinced herself that her baby was going to be a girl. She gave birth shortly after she killed her husband. Even though it turned out to be a boy, that didn't stop her from treating her son, Virgil, like a girl. She dressed him in girl clothes, and styled his long hair in girly ponytails and braids. But the boy was too strong-willed to let his mother's bizarre behavior affect him. He eventually turned into a very "masculine" little boy anyway. Do you think that if Virgil had continued to allow himself to be raised as a girl, Ruby would not have kidnapped Othella's last baby?
On the day that Othella went into labor at Ruby's house, Ruby gave Othella a letter from her mother that had been put in Ruby's mailbox by mistake. This letter contained some crucial information that would have made a huge difference in Ruby's and Othella's lives. Unfortunately, Othella delayed reading that letter, and she would regret it for the rest of her life. Did the information in the letter surprise you?
In her letter, Simone explained that she had contacted Ruby's now grown daughter and told her everything regarding her birth, and the girl was anxious to meet her biological mother. Had Othella read the letter in time, Ruby would have known everything she wanted to know about the baby girl that she'd let Simone turn over to the asylum.
If Ruby had received that information in time, she could have reunited with her daughter. But because of Ruby's violent history, volatile personality, and peculiar habits, do you think that Ruby's daughter was better off not having Ruby in her life?
If you have already read The Upper Room (the sequel to this book) and know exactly what Ruby eventually did with Othella's last baby (and to Othella when she tracked Ruby down twenty-five years later and confronted her), does the reason for the obsession that Ruby had to have a daughter of her own make you feel some sympathy for her?
or
Not Currently Available for Direct Purchase