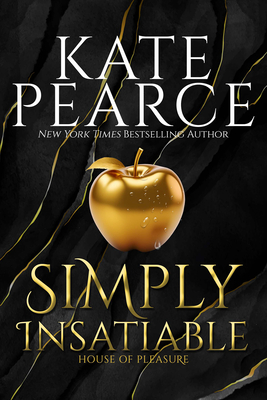 Simply Insatiable
Paperback

* Individual store prices may vary.
Description
No fantasy is too wild for Madame Helene's Pleasure House--a brothel in Regency England where forbidden desires are more than welcome. . .
The Most Scandalous Passions. . .
Lord Blaize Minshom is known throughout London for embracing every illicit longing--the more scandalous, the better. When his estranged wife, Lady Jane, returns with an ultimatum to give her a baby, he flatly refuses--even if it means she will turn to other men. Forced to watch Jane flirt shamelessly at the House of Pleasure, Minshom is enraged. . .and excited. The innocent girl he wed at seventeen has transformed into a voluptuous woman who still ignites a scorching hunger within him. . .
Are Always The Most Pleasurable. . .
After seven years apart from her husband, Jane is now ready to settle their differences and start a family. But when she is reunited with Minshom, his attitude infuriates her--and she is determined to teach him a lesson. Yet even as Jane accepts the attentions of other men, it is Minshom she truly wants. For she alone knows how to satisfy all of his wicked needs. . .
"This book has something for everyone: hot sex scenes, a sexy hero with a tragic past, a smart and compassionate heroine, intrigue, danger and Regency London at its most decadent "
"Romantic Times "on "Simply Sexual"
"Can you say HOT? Well it doesn't get much hotter than Simply Sexual. From the first scorching page to the last, Kate Pearce takes you on a wild ride of sex and suspense, keeping you guessing until the very end." "Simply Romance Reviews.
Aphrodisia, 9780758241382, 298pp.
Publication Date: May 1, 2010
About the Author
Kate Pearce was born into a large family of girls in England, and spent much of her childhood living very happily in a dream world. Despite being told that she really needed to 'get with the program', she graduated from the University College of Wales with an honors degree in history.

A move to the USA finally allowed her to fulfill her dreams and sit down and write that novel. Along with being a voracious reader, Kate loves trail riding with her family, 'western style' in the regional parks of Northern California. Kate is a member of RWA and is published by NAL, Kensington Aphrodisia, Ellora's Cave, Cleis Press and Virgin Black Lace/Cheek.
or
Not Currently Available for Direct Purchase