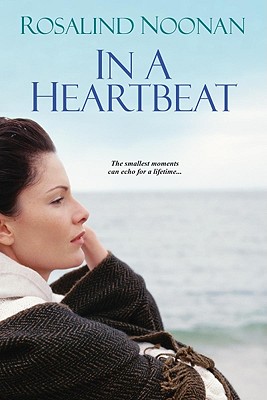 In A Heartbeat (Paperback)
Kensington, 9780758241672, 352pp.
Publication Date: September 1, 2010
* Individual store prices may vary.
Description
From the acclaimed author of One September Morning comes a gripping new novel that explores one family's journey in the wake of a horrific crime and its unexpected aftermath.

Kate McGann is wrenched from sleep by the 3 a.m. phone call every parent dreads. Her nineteen-year-old son, Ben, is lying unconscious in a Syracuse hospital after being attacked in his sleep by an unknown assailant with a baseball bat.

While Kate waits, frantically wishing for Ben to wake up and take back his life, she tries to uncover who could have done something so brutal. Ben's talent as a baseball player on his college team made some teammates jealous, but could any of them have hated him enough to do this? The crisis brings all of Ben's relationships into sharp focus--and also leads Kate to unsettling revelations about her marriage. And with each discovery, Kate learns what happens when a single unforeseen event changes everything, and the future you've taken for granted is snatched away in a heartbeat. . .

Praise for Rosalind Noonan's One September Morning

"Reminiscent of Jodi Picoult's kind of tale. . .it's a keeper!"
--Lisa Jackson, New York Times bestselling author

"Written with great insight. . . Noonan delivers a fast-paced, character-driven tale with a touch of mystery." --Publishers Weekly

"Noonan creates a unique thriller. . .a novel that focuses on the toll war takes on returning soldiers and civilians whose loved ones won't be coming home." --Booklist

About the Author
Rosalind Noonan is a New York Times bestselling fiction author and graduate of Wagner College. She lives with her family in the Pacific Northwest, where she writes in the shade of some towering two-hundred-year-old Douglas fir trees.
The call Kate McGann receives at the beginning of the book sets inevitable changes in motion. Have you ever received a life-changing phone call like Kate's? Or was there a defining moment in your life that set off major changes?
In a Heartbeat is written from multiple viewpoints. Did you find it jarring to transition from one character's point of view to another's, or did you enjoy jumping into a different person's thoughts?
Which character(s) did you most enjoy spending time with? Do you find that you prefer reading about people you relate to, or characters who expose you to a different culture or worldview?
Eli McGann escapes the real world through his art, as evidenced by this quote: "Music, paintings, a certain slant of light through colored glass—these were stored in his mind as sanctuaries, a place to go when life grew flat and sour." Did you find Eli self-indulgent, or do you think art is a healthy outlet for a man struggling with issues?
With much advancement in medicine, health advocacy has become more important than ever. Do you think Kate made the right choices as her son's advocate? If you were in her place, what might you have done differently?
Dr. Teddy Zanth's Balinese grandmother holds fast to the ancient way of accessing the "disease" in a body. As Teddy muses, "Ether, air, water, fire, and earth . . . to Nyoman's way of thinking, those elements held the keys to good health, to happiness, to life." Do you see a conflict between Nyoman's way of thinking and Teddy's Western practice of medicine?
Although Emma is quick to remove herself from her relationship with Ben, what do you think she learns from this experience?
Revenge is a recurring theme throughout In a Heartbeat. Explain how it applies to the players on the Lakers team. How does it affect Kate? Would you say revenge is Dylan's primary stimulus, or were his actions the result of complex motivations?
When Marnie searches her conscience for someone who might have a vendetta against her, she comes up with an incident from her childhood when she caused emotional harm to someone. Considering her age at the time, do you think her mother should have pursued it further? Do you think her father's response was appropriate?
While raising children, it often "takes a village" to sustain their physical and emotional health through adulthood. Compare the nurturing that Teddy received from her grandmother Nyoman to the care Dylan's grandmother Ginger Mayers provided.
Both Kate and Eli have been keeping secrets through the course of their relationship. If they were honest in the beginning of their relationship, do you think things would have turned out differently?
At the end of the book, when Kate and Eli talk about fathering Ben, there is a new dimension to their discussion. How has Eli's approach to parenting been changed by the events of the story?
How do Kate's feelings toward Eli evolve through the course of the novel?
If you were casting In a Heartbeat for a film, whom would you choose to play Kate and Cody? Marnie and Ben?
or
Not Currently Available for Direct Purchase