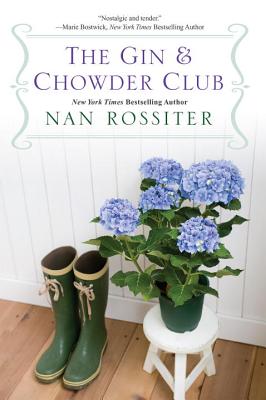 The Gin & Chowder Club
Paperback

* Individual store prices may vary.
Other Editions of This Title:
Paperback (6/30/2015)
Library Binding, Large Print (1/1/2015)
Description
Set against the beautiful backdrop of Cape Cod, The Gin & Chowder Club is an eloquent, tender story of friendship, longing, and the enduring power of love. . .

The friendship between the Coleman and Shepherd families is as old and comfortable as the neighboring houses they occupy each summer on Cape Cod. Samuel and Sarah Coleman love those warm months by the water; the evenings spent on their porch, enjoying gin and tonics, good conversation and homemade clam chowder. Here they've watched their sons, Isaac and Asa, grow into fine young men, and watched, too, as Nate Shepherd, aching with grief at the loss of his first wife, finally found love again with the much younger Noelle.

But beyond the surface of these idyllic gatherings, the growing attraction between Noelle and handsome, college-bound Asa threatens to upend everything. In spite of her guilt and misgivings, Noelle is drawn into a reckless secret affair with far-reaching consequences. And over the course of one bittersweet, unforgettable summer, Asa will learn more than he ever expected about love--the joys and heartache it awakens in us, the lengths we'll go to keep it, and the countless ways it can change our lives forever. . .

"Eloquent and surprising. . .I loved this story of faith, love, and the lasting bonds of family." --Ann Leary, author of Outtakes from a Marriage

"Nostalgic and tender. . .summons the passion of first love, the pain of first loss, and the unbreakable bonds of family that help us survive both." --Marie Bostwick, New York Times Bestselling Author
Kensington, 9780758246677, 288pp.
Publication Date: June 1, 2011
About the Author
Nan Rossiter was born in Mount Vernon, New York. She grew up in Pelham, New York, and in Barkhamsted, Connecticut. From a young age she loved to draw. After high school, she attended Rhode Island School of Design and graduated with a BFA in illustration. After working in the freelance field and creating art for internationally recognized companies such as Viking, MasterCard, and UPS, Nan began writing and illustrating books for children. She is the author-illustrator of several children's books, including, most recently, The Fo'c'sle: Henry Beston's "Outermost House." Nan lives in rural Connecticut with her husband and two handsome sons. When she's not working, she enjoys hiking with her family or reading a good book. Visit her website at www.nanrossiter.com.
From the very beginning the reader is aware that there is a strong physical attraction between Noelle and Asa. Are there any other (subconscious) factors that might have contributed to Noelle initiating an intimate relationship?
Asa has been raised to have a strong faith in God. He knows right from wrong and he struggles with the immorality of his desire for Noelle. Despite his faith and good conscience, he shamelessly betrays his father's best friend. How does this happen?
Noelle professes to love both Nate and Asa. Is it possible to truly love two people? Is it possible to be unfaithful to someone you truly love?
At what point do you think Nate suspects that the relationship between Noelle and Asa has become intimate? Do you think he is ever certain? Why doesn't he confront her?
Noelle struggles with overwhelming guilt and remorse. In her mind, how does she justify her actions?
What are some clues in the text that might lead the reader to surmise that Noah cannot be Nate's son?
After Noelle dies in childbirth, Asa turns his back on God. Is he angry with God or angry at himself? Is anyone to blame for the tragedy? Does God punish sin, or does He bless us in spite of sin?
Nate loves Noah and raises him as his own. Why does he do this? What does it say about his character?
At what point do you think Samuel and Sarah suspect that Noah is Asa's son? Can you imagine their conversation?
Asa sees Nate for the last time at Isaac's wedding reception. After seeing a picture of Noah, Asa tearfully excuses himself, but Nate stops him and says, "It's okay." What does he mean when he says this?
After reading Noelle's letter, do you think she was planning to leave Nate? If so, why did she go back home?
In the end, Asa discovers that he is already forgiven— and blessed! Do you think he will be a good father?
Are the lives of Asa and Noah—and Maddie—potential book material???