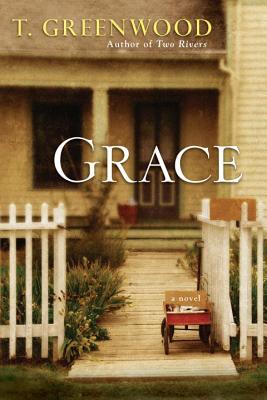 Grace
Paperback

* Individual store prices may vary.
Other Editions of This Title:
Paperback (11/30/2021)
Hardcover, Large Print (8/22/2012)
Description
T. Greenwood's extraordinary novels, deftly combining lyrical prose with heartrending subject matter, have earned her acclaim as a "family-damage specialist" (Kirkus). Now she explores one year in a family poised to implode, and the imperfect love that may be its only salvation.

Every family photograph hides a story. Some are suffused with warmth and joy, others reflect the dull ache of disappointed dreams. For thirteen-year-old Trevor Kennedy, taking photos helps make sense of his fractured world. His father, Kurt, struggles to keep a business going while also caring for Trevor's aging grandfather, whose hoarding has reached dangerous levels. Trevor's mother, Elsbeth, all but ignores her son while doting on his five-year-old sister, Gracy, and pilfering useless drugstore items.

Trevor knows he can count on little Gracy's unconditional love and his art teacher's encouragement. None of that compensates for the bullying he has endured at school for as long as he can remember. But where Trevor once silently tolerated the jabs and name-calling, now anger surges through him in ways he's powerless to control.

Only Crystal, a store clerk dealing with her own loss, sees the deep fissures in the Kennedy family--in the haunting photographs Trevor brings to be developed, and in the palpable distance between Elsbeth and her son. And as their lives become more intertwined, each will be pushed to the breaking point, with shattering, unforeseeable consequences.
Kensington, 9780758250926, 416pp.
Publication Date: April 1, 2012
Book Videos
When Crystal first goes to the Kennedys' house, she observes: "What you see on the outside rarely reflects what's really on the inside. She, of all people, understood that appearances can be deceiving." Discuss the idea of perception in this novel. Compare Crystal's assumptions of the Kennedy family through the photos and her interactions with Elsbeth and Gracy with each of the characters' own narratives. Do you think her view of them is accurate at all? Talk about Elsbeth's and Kurt's opposite reactions to Trevor's pictures of Gracy. Further, consider how your life might look to an outsider and how accurate that perception is or how it differs from the truth.
Discuss the various father-son relationships: Kurt and Trevor, Jude and Kurt, Jude and Billy. Are there patterns to be found? Any broken? How is Kurt like his father? How is he different? What parallels are there between the opening scene and the one in which Jude catches Billy with a man in the junk-yard?
Trevor is a victim of Ethan and Mike's bullying, but is he also victimized by those people who fail to protect him? Who do you believe is at fault for the way he is treated? How do you think he handled the bullying? Should he have fought more, reported it, ignored it? What could have been done to protect him and other students?
What purpose does Elsbeth's shoplifting serve for her? What is missing in her life? Do you think she will stop now? Discuss her need for things and Jude's hoarding. Are the two more similar than different?
Talk about the theme of stealing in Grace. Elsbeth shoplifts, Trevor steals equipment and chemicals from school, and Crystal steals Gracy. What else is stolen, figuratively and literally, over the course of the novel?
Photography allows Trevor to see the world as an artist. Does this make his world more endurable to him? What impact does art—in the form of photography, drawing, tattoos, etc.—have on each of the characters in Grace?
Put yourself in Kurt's position as a son or daughter to an aging father with an obvious illness. How would you have handled the situation? Do you think Kurt did the right thing by setting him up in the trailer in the backyard, or should he have left Jude in his own home like he wanted? Do you think it was abuse like Maury suggested?
Why is Crystal so consumed by Elsbeth and Grace? How does her relationship with the Kennedys change her? Did this event actually, in the end, help her get over the loss of her own Grace or make her more regretful?
Do you think that Kurt and Trevor will ever be able to get past that awful night in the pasture? Is there any amount of healing or love that can mend such a rift?
Discuss Elsbeth's feelings regarding Trevor and Gracy. Do you believe it's possible for a mother to love one child more than another for no reason? Are she and Kurt bad parents? Why or why not?
Discuss the concept of grace in this novel. Think about all of the definitions and uses of the word.
or
Not Currently Available for Direct Purchase