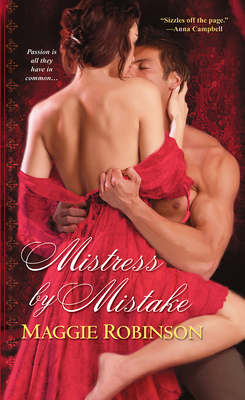 Mistress by Mistake
Paperback

* Individual store prices may vary.
Description
Scandal Is Only The Beginning. . . Charlotte Fallon let her guarded virtue fall once--and she's paid dearly for it ever since. She swore she'd never succumb to men's desires again. But even a village spinster's life miles from temptation can't save her from a sister with no shame whatsoever. Or a heart that longs for more, whatever the cost. . . Sir Michael Bayard found more than he expected in his bed when he finally joined his new mistress. He'd fantasized about her dewy skin and luscious curves, assured her understanding that what passed between them was mere dalliance. But he didn't expect the innocence and heat of her response in his arms. Nor her surprisingly sharp tongue once she was out of them. . . A few days of abandon cannot undo the hard-learned lessons of a lifetime. Nor can an honest passion burn away the restraints of society's judgments. Unless, of course, one believes in nonsense like true love. . .
Brava, 9780758250995, 307pp.
Publication Date: May 1, 2010
About the Author
Maggie Robinson is a former teacher, library clerk, and mother of four who woke up in the middle of the night, absolutely compelled to create the perfect man and use as many adjectives and adverbs as possible doing so. A transplanted New Yorker, she lives with her not quite perfect husband in Maine. Her books have been translated into nine languages. Visit her on the web at maggierobinson.net.
or
Not Currently Available for Direct Purchase