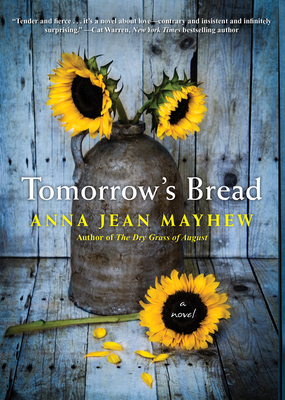 Tomorrow's Bread
Paperback

* Individual store prices may vary.
Other Editions of This Title:
Digital Audiobook (3/25/2019)
Compact Disc (3/26/2019)
Library Binding, Large Print (5/1/2019)
Description
From the author of the acclaimed The Dry Grass of August comes a richly researched yet lyrical Southern-set novel that explores the conflicts of gentrification—a moving story of loss, love, and resilience.
 
In 1961 Charlotte, North Carolina, the predominantly black neighborhood of Brooklyn is a bustling city within a city. Self-contained and vibrant, it has its own restaurants, schools, theaters, churches, and night clubs. There are shotgun shacks and poverty, along with well-maintained houses like the one Loraylee Hawkins shares with her young son, Hawk, her Uncle Ray, and her grandmother, Bibi. Loraylee's love for Archibald Griffin, Hawk's white father and manager of the cafeteria where she works, must be kept secret in the segregated South.
 
Loraylee has heard rumors that the city plans to bulldoze her neighborhood, claiming it's dilapidated and dangerous. The government promises to provide new housing and relocate businesses. But locals like Pastor Ebenezer Polk, who's facing the demolition of his church, know the value of Brooklyn does not lie in bricks and mortar. Generations have lived, loved, and died here, supporting and strengthening each other. Yet street by street, longtime residents are being forced out. And Loraylee, searching for a way to keep her family together, will form new alliances—and find an unexpected path that may yet lead her home.
Praise For Tomorrow's Bread…
Advance praise for Tomorrow's Bread
 
"Sings to life the necessities of community, resting places and home. A tale profoundly relevant for our time."
—Elaine Neil Orr, author of Swimming Between Worlds

"Mayhew leads readers down the neighborhood streets and into its businesses and the lives of its residents and doesn't shy away from showing the neighborhood as it really was, a mixture of good and bad, but always home. Readers drawn to the well-defined characters of Stephanie Powell Watts and Thomas Mullen will find Brooklyn tugging at their hearts."
—Booklist on Tomorrow's Bread


Outstanding praise for The Dry Grass of August
 
"Mayhew keeps the story taut, thoughtful and complex, elevating it from the throng of coming-of-age books."
—Publishers Weekly

"Beautifully written, with complex characters, an urgent plot, and an ending so shocking and real it had me in tears."
—Eleanor Brown, New York Times bestselling author
 
"A must-read for fans of The Help."
—Woman's World
 
"Written with unusual charm, wonderful dialogue, and a deeply felt sense of time and place, The Dry Grass of August is a book for adults and young people both—a beautifully written literary novel that is a real page-turner, I have to add. Fast, suspenseful, and meaningful. I read this book straight through."
—Lee Smith, author of Fair and Tender Ladies
 
"Because the novel is totally true to Jubie's point of view, it generates gripping drama as we watch her reach beyond authority to question law and order."
—Booklist
 
"Jubie is a compelling heroine in the mold of Lily Owens in The Secret Life of Bees."
—VOYA
 
"A masterful work of blending time and place."
—The Charlotte Observer
 
"A beautiful book that fans of The Help will enjoy."
—Karen White, New York Times bestselling author
Kensington, 9780758254108, 304pp.
Publication Date: March 26, 2019
About the Author
Anna Jean (A.J.) Mayhew's first novel, The Dry Grass of August, won the Sir Walter Raleigh Award for Fiction, and was a finalist for the Book Award from the Southern Independent Booksellers Alliance. She has been writer-in-residence at Moulin à Nef Studio Center in Auvillar, France, and was a member of the first Board of Trustees of the North Carolina Writers' Network. A native of Charlotte, NC, A.J. has never lived outside the state, although she often travels to Europe with her Swiss-born husband. Her work reflects her vivid memories of growing up in the segregated South. A.J.—a mother and grandmother—now lives in a small town in the North Carolina Piedmont with her husband and their French-speaking cat.
1. There are three narrative voices in Tomorrow's Bread, one is first person and the other two are third. Did the different narrative voices affect how you perceived the characters?
2. Many of the characters have a missing or absent parent. Why do you think the author chose such a family structure?
3. Because of laws against miscegenation, Loraylee had to conceal her relationship with Mr. Griffin, but why did she wait until Hawk was nine to tell him about his father?
4. Senility in an aging relative is common for many of us. Was Bibi's progressive dotage accurately portrayed?
5. Which of the major characters–Loraylee, Eben, and Persy–was most important for you, and why?
6. The magnolia in the front yard of Loraylee's house on Brown Street weaves in and out of the story. What is the significance or symbolism of that tree?
7. Was it realistic for you that White patrons would have availed themselves of services like Tyler's Shoe Repair and Roberta Stokes, the seamstress?
8. When you first saw the title Tomorrow's Bread, what did it suggest? After reading the novel, does the title have a different meaning for you?
9. What was your favorite chapter?
10. Which character changed the most in the novel? The least?
11. If you had an opportunity to talk with one of the characters, which one would you choose?
12. Jonny No Age apparently is beaten to death because he's gay. Were you surprised that homosexuality was so disliked and feared in the 1960s? Do you think the same thing would happen today?
13. Was the conclusion of the novel believable? Satisfactory?
14. How do you imagine Loraylee and her family would be doing today, 50-plus years later?