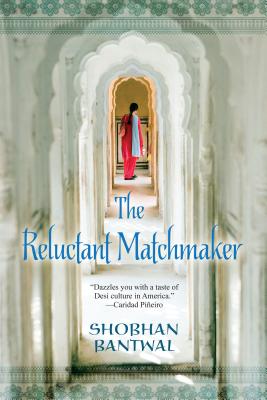 The Reluctant Matchmaker (Paperback)
Kensington, 9780758258854, 352pp.
Publication Date: June 26, 2012
* Individual store prices may vary.
Description
In her thought-provoking, uplifting new novel, Shobhan Bantwal vividly blends the nuances of contemporary Indian-American culture with an unconventional romance. . .

At thirty-one, Meena Shenoy has a fulfilling career at a New Jersey high-tech firm. Not that it impresses her mother and aunts, who make dire predictions about her ticking biological clock. Men are drawn to Meena's dainty looks and she dates regularly, but hasn't met someone who really intrigues her. Someone professional, ambitious, confident, caring. Someone like her new boss, Prajay Nayak.

Just as Meena's thoughts turn to romance, Prajay makes an astonishing request. He wants her to craft a personal ad that will help him find a suitable wife: a statuesque, sophisticated Indian-American woman who will complement his striking height.

Despite her attraction to Prajay and the complications of balancing work and her "marriage consultant" role, Meena can't refuse the generous fee. And as her family is thrown into turmoil by her brother's relationship with a Muslim woman, Meena comes to surprising realizations about love, tradition, and the sacrifices she will--and won't--make for the sake of both.

"One of the best [novels] I've read this year. I couldn't put it down. . .this book is a gem!" --Mary Monroe, New York Times bestselling author on The Unexpected Son

"Compelling and memorable." --Mary Jo Putney, New York Times bestselling author on The Forbidden Daughter

"Vivid, rich. . .expertly portrays a young woman caught between love and duty, hope and despair." --Anjali Banerjee on The Dowry Bride

"Dazzles you with a taste of Desi culture in America." --Caridad Piñeiro
About the Author
Shobhan Bantwal was born and raised in India and came to the United States as a young bride in an arranged marriage. She has published short fiction in literary magazines and articles in a number of publications. Writing plays in her mother tongue (the Indian language of Konkani) and performing onstage at Indian American conventions are some of her hobbies. She lives in New Jersey with her husband. Shobhan loves to hear from her readers.
or
Not Currently Available for Direct Purchase