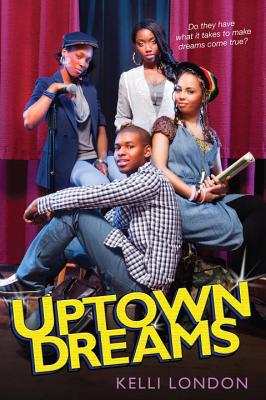 Uptown Dreams (Paperback)
Kensington -Teen/Dafina, 9780758261281, 256pp.
Publication Date: December 1, 2011
* Individual store prices may vary.
Description
At the prestigious Harlem Academy of Creative and Performing Arts, students are destined to realize their uptown dreams--as long as friends, haters, and crushes don't trip them up. . .

La-La Nolan's killer voice could make her a superstar, but she's more focused on scoring the attention of Ziggy Phillip--the cute Jamaican boy in her class. But a singing competition against her arch rival could cost her both Ziggy and her spot at the Academy. . .

The daughter of the school's director and voice coach, Reese Allen has to work harder than everyone else to prove herself. But all Reese wants is to be a hip hop producer--a path her mother will never approve of. . .

Even though it's clear that Ziggy loves the ladies, he has to keep his passion for dance a secret from his father. But then his brother discovers Ziggy's ballet shoes and threatens to tell all--unless Ziggy gets him into the Academy too. . .

No one's a better actress than Jamaica Kincaid Ellison. She's even acted her way out of the boarding school her parents think she's still attending and into the Academy. She'll do anything to achieve her dream--unless her lies destroy everything. . .

If that weren't enough drama, rumor has it that the Academy may close at the end of the year. Can these gifted students put their talents to the test to save it?

"An amazing tale that is sure to delight, teach, and intrigue teens everywhere!"--Ni-Ni Simone on Boyfriend Season
About the Author
Kelli London, aka Kells, has been writing since she was six years old. She's pro anything that uplifts girls (ok, boys too), is a mentor for A Dream Inc. (a non-profit organization for teens), and creator of Kelli Girls' Pearls—gems for a girl to live by: Positive Affirmations & Daily Quotes. She lives in The Moment, is a social butterfly (social networking and newsletter butterfly too), has a passion for education, reading, writing, running, chocolate, life and, of course, her readers.
or
Not Currently Available for Direct Purchase