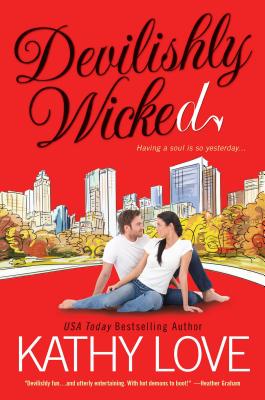 Devilishly Wicked
Paperback

* Individual store prices may vary.
Description
A demon's work is never done. . .

Tristan McIntryre is finally moving up the ladder of demon success. The Prince of Darkness himself has put Tristan in charge of total demonic takeover--by way of HOT! magazine, where Tristan has to bite the proverbial forked tongue working alongside she-devil diva Finola White. His biggest distraction is the last kind a demon of lust like him needs: a mortal woman. Worse, he likes her.

Georgia Sullivan clearly wasn't thinking when she signed on to work at HOT! It pays the rent, but now she's surrounded by demons and size 2 models. Plus, she has a huge crush on her insanely handsome boss, Tristan. Not a man to write home about. Yet, she senses that deep down he's a good guy. It's complicated.

As Tristan and Georgia play with fire, project total demonic takeover begins to run into a few snags. The temperature is definitely rising--or worse, Tristan could be falling in love. . .

Praise for the novels of Kathy Love

"Infested with a nest of fashionista demons. . .this is a fun read." --RT Book Reviews on Devilishly Hot

"Devilishly fun. . .and utterly entertaining. With hot demons to boot!" --Heather Graham on Devilishly Sexy
Brava, 9780758265890, 288pp.
Publication Date: October 29, 2013
About the Author
Kathy Love writes for both Zebra (her Stepp Sisters trilogy—Getting What You Want, Wanting What You Get, and Wanting Something More) and Brava (Fangs for the Memories, Fangs but No Fangs, I Only Have Fangs for You, and My Sister Is a Werewolf). She lives in Maryland with her beautiful daughter, Emily, a crazy Boston terrier, and a very squeaky guinea pig. Kathy would love to hear from you via her website. Please check out readkathylove.com.
or
Not Currently Available for Direct Purchase