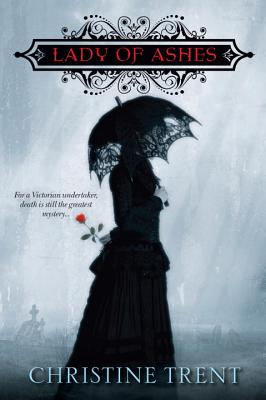 Lady of Ashes
Paperback

* Individual store prices may vary.
Other Editions of This Title:
Digital Audiobook (11/29/2021)
Description
Only a woman with an iron backbone could succeed as an undertaker in Victorian London, but Violet Morgan takes great pride in her trade. While her husband, Graham, is preoccupied with elevating their station in society, Violet is cultivating a sterling reputation for Morgan Undertaking. She is empathetic, well-versed in funeral fashions, and comfortable with death's role in life--until its chilling rattle comes knocking on her own front door.

Violet's peculiar but happy life soon begins to unravel as Graham becomes obsessed with his own demons and all but abandons her as he plans a vengeful scheme. And the solace she's always found in her work evaporates like a departing soul when she suspects that some of the deceased she's dressed have been murdered. When Graham's plotting leads to his disappearance, Violet takes full control of the business and is commissioned for an undertaking of royal proportions. But she's certain there's a killer lurking in the London fog, and the next funeral may be her own.

Equal parts courage, compassion, and intrigue, Christine Trent tells an unrestrained tale of love and loss in the rigidly decorous world of Victorian society.

Praise for the novels of Christine Trent

"Genuinely engrossing. . .with a rare Regency heroine who loves her work and does it well." Publishers Weekly on By the King's Design

"Exuberant, sparkling, beguiling. . .brims with Dickensian gusto!" --Barbara Kyle, author of The Queen's Lady on The Queen's Dollmaker

"Winningly original. . .glittering with atmospheric detail!" --Leslie Carroll, author of Royal Affairs on The Queen's Dollmaker
Kensington, 9780758265913, 432pp.
Publication Date: February 26, 2013
About the Author
Christine Trent lives in the Mid-Atlantic region with her husband, Jon, and five cats: Caesar, Claudia, Livia, Marcus, and Octavian. When she isn't writing, you can usually find her scrapbooking, planning a trip to England, or haunting bookstores. She is the author of the Lady of Ashes historical mystery series. Please visit Christine at www.ChristineTrent.com.
The Victorian era was a period of rapidly changing technology and social hierarchies. What evidence do you find of this in the book?
Although every profession has its bad apples, undertaking was a particularly reviled industry in the Victoria era. Why do you think this was so?
How did Victorian undertaking practices in England differ from what is done now? Are there Victorian practices that you would like to see performed once again?
In Victorian England, it was considered important to journal the final days of a loved one as a memorial and keepsake for posterity. Why do you think this was considered important? Why do you think this has fallen out of favor today?
Graham was determined to become a part of society, one of the new "self-made" men who came to enjoy substantial prosperity in Victorian England. Was this a realistic goal to achieve? What were some of the ways Graham sought to rise in society that we still embrace today?
How would you describe Violet's and Graham's marriage? Would you say it was more or less typical than most marriages of the time? What were some of the challenges Violet faced as she struggled to keep her marriage together?
Conversely, consider the marriage between Albert and Victoria. What do you admire about it? What weaknesses lay between them?
The workhouse was one of the ways in which the Victorians attempted to address the needs of England's poor. Compare and contrast the workhouse to some of today's social programs. In what ways was the workhouse better or worse?
What was your reaction when you read that Violet brought Susanna home to live without first consulting Graham?
What surprised you the most about British attitudes and involvement toward the U.S. Civil War?
Was the British government right to be outraged by the taking of two Confederate diplomats, Mason and Slidell, from RMS Trent? Was their insistence on neutrality in all waters at all times realistic and/or enforceable?
After Albert's death, Victoria remained in mourning for the rest of her life, even choosing to be buried in her wedding veil. Yet she later developed a special attachment for a servant by the name of John Brown, with whom many people claim she had an affair. Do you think Victoria had an affair or was this purely a platonic relationship?