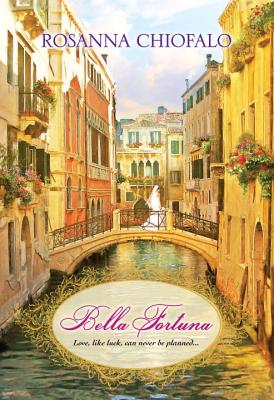 Bella Fortuna
Paperback

* Individual store prices may vary.
Other Editions of This Title:
Digital Audiobook (9/19/2012)
Paperback (5/29/2018)
Compact Disc (9/15/2012)
Compact Disc (9/15/2012)
Description
In this warm, enchanting debut novel, Rosanna Chiofalo evokes the extraordinary beauty of Venice, the charm of a close-knit New York neighborhood, and the joys of friendship, family, and surprising second chances. . .

Valentina DeLuca has made hundreds of brides' dreams come true. At Sposa Rosa, the Astoria, New York, boutique where she, her sisters, and their mother design and sew couture knock-off gowns, she can find the perfect style for even the most demanding customer. Now, it's her turn. Valentina has loved Michael Carello ever since he rescued her from a cranky shopkeeper when she was ten years old. He's handsome, chivalrous, and loyal. And in a few weeks, she's going to marry him--in Venice.

But just when she thinks everything is falling into place, Valentina is forced to re-examine her life to see what truly makes her happy. And as she soon learns, in a place as magical as Venice, what seems like misfortune can turn out to be anything but, although who knows what may be waiting around the next corner? The chance to enjoy a moonlit gondola ride, to sip Prosecco in St. Mark's Square, to eat mouthwatering gelato, to put aside "sensible" for once and see where the warm Italian breezes guide her as she visits all the sights she's dreamed of: The Doge's Palace, Il Rialto, the little islands of Murano and Burano. And maybe, along the way, to discover that bella fortuna--good luck--isn't what you're given, but what you make.

Advance praise for Bella Fortuna

"Like a gondolier navigating the canals of Venice, Rosanna Chiofalo takes you on a magical ride filled with family and friends, love and loss, heartbreak and happiness. Bella Fortuna is a warm glimpse into Italian-American life." --Holly Chamberlin, author of Last Summer

"Reading Rosanna Chiofalo's depiction of a modern Italian-American family is like digging into a fresh bowl of pasta--warm, welcome, and satisfying. A deeply felt debut that affirms the importance of friends and family--Italian-style." --Lisa Verge Higgins, author of The Proper Care and Maintenance of Friendship

"From the streets of New York to the canals of Venice, Rosanna Chiofalo creates a warm and lively story the reader won't want to see end. Valentina DeLuca is a heroine with intelligence, heart, and courage, the kind of person every woman wants for a dear friend. Time spent with her is a sheer joy." --Mary Carter, author of The Pub Across The Pond

"Go to Venice. Ride a gondola. See St. Mark's square. Chase the pigeons. Then go back to your hotel room overlooking a canal, take out Bella Fortuna, and read. It will make your whole day perfetto." --Cathy Lamb, author of A Different Kind of Normal
Kensington, 9780758266538, 368pp.
Publication Date: August 28, 2012
About the Author
Rosanna Chiofalo is the author of Bella Fortuna, Carissima, Stella Mia, Rosalia's Bittersweet Pastry Shop, and The Sunflower Girl. An avid traveler, she enjoys setting her novels in the countries she's visited. Her novels also draw on her rich cultural background as an Italian American. When she isn't traveling or daydreaming about her characters, Rosanna keeps busy testing out new recipes in her kitchen and tending to her ever-growing collection of houseplants. She lives in New York City with her husband.
Do you feel that Valentina has truly been "cursed in love" as
she proclaims in the opening chapter of Bella Fortuna? Do you
feel that she's been unlucky in general in life?
How is Valentina different from her mother in her beliefs of
the mighty malocchio or evil eye? How are they alike in their
beliefs of good versus bad luck?
How does Michael fit the knight-in-shining-armor stereotype
where Valentina is concerned? Do you think that is a large reason
why Valentina falls in love with him?
Do you agree with Aldo's assessment that Valentina has put
Michael on such a high pedestal and that no one can live up to
such high expectations? Does that make it easier to forgive
Michael's transgressions later? Do you feel that Valentina's expectations
of Michael are unrealistic?
Discuss the concept of "forgive and forget" and the pros and
cons of either forgiving and forgetting or not forgiving and
holding on to a grudge. Do you feel that Valentina is justified
in her refusal to forgive Tracy when she sees her at her shop?
Do you feel that Valentina was harsh? How might Valentina
have handled the situation with Tracy in her shop differently?
Valentina is close to her family. But we also see she has a special
relationship with her neighbors and the people in her
neighborhood. Which is your favorite neighbor and why?
Which is your least favorite neighbor and why? Do you feel
that the neighbors are an extended family for Valentina?
What are Valentina's views on friendship with women? Do you
feel that her views were shaped by Tracy's betrayal when they
were in high school?
Valentina and Aldo share a very close friendship and bond.
How are they alike and/or different?
For most women, weddings are a milestone, and they want
their big day to be perfect. Do you feel that Valentina has
placed too much importance on having the perfect wedding
with Michael? Do you think Valentina is guilty of falling more
in love with the notion of getting married than falling in love
with Michael?
What does Valentina's wedding dress symbolize for her? What
does the dress symbolize for her mother? Do you agree with
Michael after he has walked in on her gown fitting that she
should drop the shorter front hem of her dress? What do you
think are his real motives in wanting a more traditional dress
for Valentina?
Do you believe that Sonia, the teenage fortune-teller Olivia
goes to see, truly has "the power"?
Do you think it was wise for Valentina to go to Venice after her
engagement to Michael is broken? How does the trip hinder
her initially from moving on with her life? How does it help
her come to terms with what she's lost?
How is Stefano different from Michael? Why do you think
Valentina falls for him?
After Valentina returns to New York and visits Tracy's mother,
she learns that Tracy seems to have changed her ways. Did you
feel compassion for Tracy? Was it easier to understand her actions
toward Valentina when they were in high school?
What did you think of Valentina's enormous gesture of giving
Tracy's mother her wedding dress? Do you feel that her action
has truly brought her peace?
Valentina regrets not having forgiven Tracy. Do you think she
should have been more understanding toward Michael when
he reveals the secret he'd been keeping from her? Why do you
think she is not ready to forgive him? Do you think she ever
will? Do you think they can ever be friends?
How are Valentina's wedding plans to Stefano different from
her plans for her first wedding? Do you feel that she's grown?
What did you think of her choice in wedding gown for her
wedding to Stefano? Did you like it more than the dress she
was supposed to wear to her wedding with Michael? Which
gown do you feel represented accurately who she was?
How do Valentina's relationships with Michael and Stefano
mirror her mother's relationships with her first love, Salvatore,
and her husband, Nicola? How much did fate play a role in
whom they fell in love with?
Olivia shares with Salvatore what Connie has told her about the
Cherokee Indians' belief that each stage of our lives—childhood,
adolescence, adulthood, and old age—is a different life, almost
like a reincarnation. Do you agree with this Cherokee belief?
How has Olivia reinvented herself in every stage of her life?
How has Valentina?
How have Olivia's views on bad luck changed toward the end
of the novel? How have Valentina's changed?
or
Not Currently Available for Direct Purchase