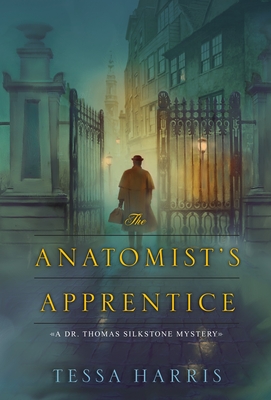 The Anatomist's Apprentice (Dr. Thomas Silkstone Mystery #1)
Paperback

* Individual store prices may vary.
Other Editions of This Title:
Compact Disc (12/27/2011)
Hardcover (12/27/2011)
Compact Disc (12/27/2011)
Compact Disc (12/27/2011)
Hardcover, Large Print, Large Print (4/1/2012)
Audio Cassette (12/1/2011)
Description
In the first in a stunning new mystery series set in eighteenth-century England, Tessa Harris introduces Dr. Thomas Silkstone, anatomist and pioneering forensic detective. . .

The death of Sir Edward Crick has unleashed a torrent of gossip through the seedy taverns and elegant ballrooms of Oxfordshire. Few mourn the dissolute young man--except his sister, the beautiful Lady Lydia Farrell. When her husband comes under suspicion of murder, she seeks expert help from Dr. Thomas Silkstone, a young anatomist from Philadelphia.

Thomas arrived in England to study under its foremost surgeon, where his unconventional methods only add to his outsider status. Against his better judgment he agrees to examine Sir Edward's corpse. But it is not only the dead, but also the living, to whom he must apply the keen blade of his intellect. And the deeper the doctor's investigations go, the greater the risk that he will be consigned to the ranks of the corpses he studies. . .

Advance praise for Tessa Harris and The Anatomist's Apprentice

'"Tessa Harris has delivered a deftly plotted debut. Just when you think the puzzle is solved, she reveals yet another surprising twist which leaves you marveling at her ingenuity." --Carol Carr, author of India Black

"CSI meets The Age of Reason with a well-drawn, intriguing cast of characters, headed by the brilliant Dr. Thomas Silkstone. Full of twists and turns, Tessa Harris's debut mystery can confound the most adept reader. Vivid details pulled me right into the world of early forensic sleuthing. A page turner!" --Karen Harper

"Tessa Harris takes us on a fascinating journey into the shadowy world of anatomist Thomas Silkstone, a place where death holds no mystery and all things are revealed." –Victoria Thompson, author of Murder on Sisters' Row

"From dissection table to drawing room, this visit to late eighteenth-century England is chock full of intriguing twists and turns. Along with the visiting surgeon from the colonies, Dr. Thomas Silkstone, readers will find themselves challenged by the who, the how, and the why of murder at an idyllic Oxfordshire manor house." --Kate Emerson
Kensington, 9780758266989, 320pp.
Publication Date: January 1, 2012
About the Author
Tessa Harris, an English author born in Lincolnshire, holds a history degree from Oxford University. After four years of working with local newspapers, she set her sights on women s magazines. She is regularly heard on local BBC radio and over the years has interviewed such people as Margaret Thatcher, Jeffrey Archer, Anthony Hopkins, Susan Hampshire, Alan Titchmarsh, Jackie Stewart, Boris Johnson, and Uri Geller. She lives in Berkshire with her husband and their two children.
Dr Thomas Silkstone lived in England during the War of Independence (1775-1783). How did the attitude of the English change towards Americans during this period as reflected in the novel?
In chapter two we read that Mr Smollett donated his remains for dissection. Would you donate your body to medical science?
Thomas is the voice of the Enlightenment in a turbulent age. What deeply embedded prejudices and superstitions does he battle against in the novel?
Captain Michael Farrell was a gambler and a rogue. But do you sympathize with him at any point in the novel?
Lady Lydia Farrell is not a conventional heroine. Her existence is dominated by over-bearing men. How far do you think this is a true reflection of a noblewoman's lot in Georgian society?
During an autopsy, Thomas muses on the exact location of the soul. It's a question that thinkers have been asking since time began. Has science brought us any closer to finding the answer?
There is a vast amount of historical detail in the narrative. Does this enhance or detract from the story?
The novel is written in the third person. Would the story have benefited if it were told through the eyes of Dr Thomas Silkstone?
Discuss the treatment of servants in the Georgian household. What light does this shed on our relationships with employees today?
Should medicine be the sole preserve of highly qualified experts or is there room for alternative practioners like Hannah Lovelock?
Had Michael Farrell been sentenced for the murder of Lord Crick, an innocent man would have hanged. Can the death penalty ever be justified when there is any doubt around guilt?
How far did James Lavington's horrific injuries after his accident shape his character?
Discuss the mix of fact and fiction in the story. Does it help or hinder a novel when it is based on a true story?