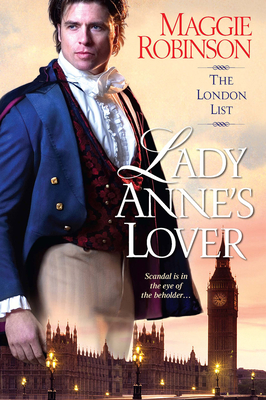 Lady Anne's Lover (London List #3)
Paperback

* Individual store prices may vary.
Description
Lady Imaculata Anne Egremont has appeared in the scandalous pages of the London List often enough. The reading public is so bored with her nonsense, she couldn't make news now unless she took a vow of chastity. But behind her naughty hijinks is a terrible fear. It's time the List helped her. With a quick scan through its job postings and a few whacks at her ridiculous name, she's off to keep house for a bachelor veteran as plain Anne Mont.

Major Gareth Ripton-Jones is dangerously young and handsome on the face of it, but after losing his love and his arm in short order, he is also too deep in his cups to notice that his suspiciously young housekeeper is suspiciously terrible at keeping house. Until, that is, her sharp tongue and her burnt coffee penetrate even his misery--and the charm underneath surprises them both. Trust the worst cook in Wales to propose a most unexpected solution to his troubles. . .

Praise for Maggie Robinson's Novels

"Steam rises from the pages." --RT Book Reviews (4 stars) on Mistress by Marriage

"Deliciously wicked. . .hard to put down." --Romance Junkies (5 stars) on Mistress by Midnight
Brava, 9780758269102, 352pp.
Publication Date: July 30, 2013
About the Author
Maggie Robinson didn't know she wanted to write until she woke up in the middle of the night once really annoyed with her husband. Instead of smothering him with a pillow, she decided to get up and write—to create the perfect man—at least on a computer screen. Only to discover that fictional males can be just as resistant to direction as her husband. The upside is that she's finally using her English degree and is still married to her original, imperfect hero. Since she's imperfect, too, that makes them a perfect match. Until her midnight keyboarding, she had been a teacher, librarian, newspaper reporter, administrative assistant to two non-profits, community volunteer, and mother of four in seven different states. Now Maggie can call herself a romance writer in Maine. There's nothing she likes better than writing about people who make mistakes, but don't let the mistakes make them.