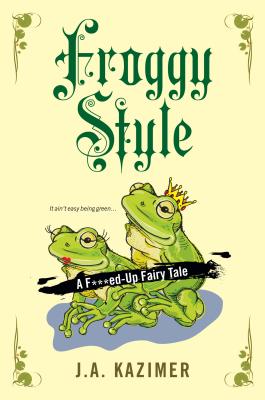 Froggy Style
Paperback

* Individual store prices may vary.
Description
Jean-Michel La Grenouille has a lot going for him. He's a prince. Handsome. Filthy rich. And definitely charming. But he also spent his first few years as a fly-catching, pond-dwelling frog. All that saved him was the kiss of The One, the girl who saw nobility through his slimy form and fell into True Love. Okay, fine. Technically she was a toddler who tried to eat him, but whatever. The curse broke, and as long as he finds and marries her by his 30th birthday, he's a free man.

Trouble is, he's going to be 30 in ten days, and he's getting some seriously cold-blooded feet. He's pretty sure Princess Sleeping Beauty is The One. But his best man has some villain issues, his in-laws-to-be belong in a really special castle, and a smoking-hot lady biker named Lollie Bliss has him rethinking all this happily-ever-after stuff. Oh, and he may have accidentally put out a hit on his blushing bride. Oopsie.

Praise for J.A. Kazimer and Curses!

"More than f***ed-up. Demented. Hilarious." --Mario Acevedo, author of Werewolf Smackdown

"Forget everything you know about Cinderella. J.A. Kazimer sets the record straight with humor and a hell of an imagination!" --Jeanne C. Stein, national bestselling author

"A thoroughly fun read." --Nicole Peeler, author of the Jane True series
Kensington, 9780758269133, 288pp.
Publication Date: February 26, 2013
About the Author
Originally from Cleveland, Ohio, J.A. Kazimer escaped at a young age and now lives and writes in Denver, Colorado. Kazimer holds a master's degree in forensic psychology and has worked as a PI, bartender, and most recently at the Jack Kerouac School of Disembodied Poetics. For current works and more information, visit www.jakazimer.com, read The New Never News fairytale blog at http://thenewnevernews.blogspot.com, or follow on Twitter @jakazimer and @newnevernews.