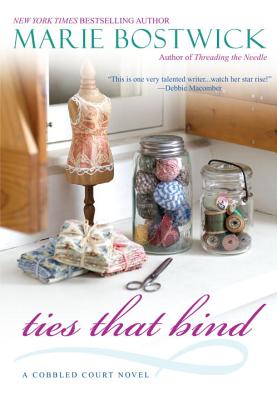 Ties That Bind (Cobbled Court Quilts Novels)
Paperback

* Individual store prices may vary.
Other Editions of This Title:
Digital Audiobook (4/23/2012)
Hardcover, Large Print (6/1/2012)
MP3 CD (5/15/2012)
Compact Disc (5/15/2012)
Compact Disc (5/15/2012)
Description
"Heartwarming . . . Bostwick's contemporary New England quilters series is an unbreakable thread of friendship and faith." --Publishers Weekly Christmas is fast approaching, and New Bern, Connecticut, is about to receive the gift of a new pastor, hired sight unseen to fill in while Reverend Tucker is on sabbatical. Meanwhile, Margot Matthews' friend, Abigail, is trying to match-make even though Margot has all but given up on romance. She loves her job at the Cobbled Court Quilts Shop and the life and friendships she's made; she just never thought she'd still be single on her fortieth birthday. It's a shock to the entire town when Philip A. Clarkson turns out to be Philippa. Truth be told, not everyone is happy about having a female pastor. Yet despite a rocky start, Philippa begins to settle in-finding ways to ease the locals' burdens, joining the quilting circle, and forging a fast friendship with Margot. When tragedy threatens to tear Margot's family apart, that bond-and the help of her quilting sisterhood-will prove a saving grace. And as she untangles her feelings for another new arrival in town, Margot begins to realize that it is the surprising detours woven into life's fabric that provide its richest hues and deepest meaning . . . Praise for the Cobbled Court Novels "Interesting characters and compelling stories that show an appreciation for female friendship as well as a love for the art of quilting." -Library Journal "Warmly nourishing, emotionally compelling . . . quiet yet powerful." --The Chicago Tribune.
Kensington Publishing Corporation, 9780758269287, 356pp.
Publication Date: May 1, 2012
About the Author
Marie Bostwick was born and raised in the northwest. In the three decades since her marriage, Marie and her family have moved frequently, living in eight different states at eighteen different addresses. These experiences have given Marie a unique perspective that enables her to write about people from all walks of life and corners of the country with insight and authenticity. Marie currently resides in Portland, where she enjoys writing, spending time with family, gardening, collecting fabric, and stitching quilts. Visit her at www.mariebostwick.com.
The story opens on Margot's fortieth birthday—an occasionshe'd just as soon ignore. What about you? Do you like celebratingbirthdays, or do you prefer to let them slip by unnoticed?What do you enjoy about getting older? What aspectsof aging do you dislike or perhaps even fear?
We all know that there's no such thing as a perfect family, andMargot's is no exception. To the extent that you feel comfortabledoing so, share some insights about your family. Whatdid your parents do right? What do you wish they'd done differently?If you're a parent, how did your childhood experiencesshape the way you raised or are raising your children?
Margot and her sister, Mari, were close as children, but whenthey got older, they became estranged. What changed theirrelationship? Was there anything they could or should havedone to help heal it? If you have siblings, do you have a closerelationship with them? Why or why not? If you're an onlychild, have you ever wished you had siblings? What do youimagine the benefits or strains of having brothers or sistersmight be?
After Reverend Tucker becomes ill, the church board hiresReverend Clarkson to fill in for him while he recovers, notrealizing that "he" is actually a "she" until Philippa arrives inNew Bern. Some of the characters seem bothered that theirnew minister is a woman, while others feel her sex is immaterialto her ability to serve as their minister. What do youthink accounts for the difference in their attitudes? If you attenda church, does your denomination allow women toserve as clergy? Do you think that this is a good idea or not?If you belong to a denomination that doesn't ordain femaleministers, do you think they should?
Philippa had a number of careers before finally respondingto the call to ministry. Why do you think it took her so longto do so? Have you ever changed career paths? Tell thegroup about your experiences. What was difficult about it?What was easier than you thought it would be? If you coulddo it over again, would you? And if you've never changedcareers, do you wish you could?
People deal with grief and loss in very different ways. Margot,her parents, her niece, and Philippa have each undergonea terrible loss at some point in their lives. How didtheir responses to grief differ? How were they similar?What does the manner in which they respond to loss sayabout their personalities? If you have ever grieved the lossof someone close to you, how did you get through it? Or areyou dealing with it still? What are some of the things thatpeople did or said that were helpful or harmful as you weregrieving?
Margot has had many male friends in her lifetime, yet thosefriendships never seem to blossom into romance. Why doyou suppose that is? Do you think that all those men weretruly uninterested in Margot romantically? Could she havebeen sending out unconscious signals that she wasn't interestedin them?
Margot often says that she's given up looking for "Mr.Right" and would happily settle for "Mr. Good Enough,"but do you think that's true? How might Margot's viewsabout sex outside of marriage have affected her relationshipswith men? In our modern culture, is it realistic for a womanto wait until marriage before she experiences sexual intimacy?
Philippa and Margot both want children but, for differentreasons, face obstacles to realizing that dream. Have you, orhas someone you know, been faced with issues of infertility?What about life as a single parent? Do you think it is importantfor children to be raised in a two-parent home? Whatare the particular challenges of raising a child alone? Canyou think of strategies that would make the job of being asingle parent easier?
In talking about the attitude of the church congregation inNew Bern, the book makes mention of "the 10–90 rule,"meaning that 10 percent of the people do 90 percent of thework. If you belong to a church or volunteer organization inyour community, have you found this rule to be true? If youvolunteer in your church or community, what are some ofthe benefits you've gained from that experience? What doyou enjoy most about volunteer work? What do you like theleast?
Geoff Bench's intentions toward Margot are less than honorable.Margot feels uncomfortable around him from the first,but dismisses her own feelings and ignores her instincts.Why is that? Do you think this is a common reaction amongwomen? Have you ever been in a similar situation? How didyou respond? Did you trust your instincts, or try to ignorethem? What do you think is the best way to confront someoneyou believe may be trying to harass you or make unwantedadvances, especially if the harassment isn't blatant?
When Margot first meets Paul, she could not find him lessappealing. However, as the story progresses, her feelings towardhim move from disinterest to friendship to true love.Do you think this is the usual way for romantic attachmentsto develop? Or do you believe in love at first sight? Whatabout your story? If you're married or in a meaningful romanticrelationship, how did you come to know that this wasthe one for you? Did love hit you like a thunderbolt? Or wasit a slow burn? Do you think one is better than the other?