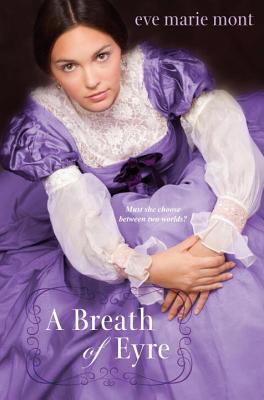 A Breath of Eyre (Unbound #1) (Paperback)
Kensington Publishing Corporation, 9780758269485, 352pp.
Publication Date: April 1, 2012
* Individual store prices may vary.
Description
In this stunning, imaginative novel, Eve Marie Mont transports her modern-day heroine into the life of Jane Eyre to create a mesmerizing story of love, longing, and finding your place in the world...
Emma Townsend has always believed in stories-the ones she reads voraciously, and the ones she creates. Perhaps it's because she feels like an outsider at her exclusive prep school, or because her stepmother doesn't come close to filling the void left by her mother's death. And her only romantic prospect-apart from a crush on her English teacher-is Gray Newman, a long-time friend who just adds to Emma's confusion. But escape soon arrives in an old leather-bound copy of Jane Eyre...
Reading of Jane's isolation sparks a deep sense of kinship. Then fate takes things a leap further when a lightning storm catapults Emma right into Jane's body and her nineteenth-century world. As governess at Thornfield, Emma has a sense of belonging she's never known-and an attraction to the brooding Mr. Rochester. Now, moving between her two realities and uncovering secrets in both, Emma must decide whether her destiny lies in the pages of Jane's story, or in the unwritten chapters of her own...
"Captivating and heartrending... Definitely one for the favorites shelf."" --Kelly Creagh, author of Nevermore
"A rich, wonderful, smart adventure, steeped in romance. I fell into this book in the same way Emma falls into Jane Eyre and I didn't want to fall back out again." --Lesley Livingston, author of Once Every Never and the Wondrous Strange trilogy
Eve Marie Mont lives with her husband, Ken, and her shelter dog, Maggie, in suburban Philadelphia, where she teaches high school English and creative writing. Her debut women's fiction novel, Free to a Good Home, was published by Berkley Books in 2010. Visit her website at www.evemariemont.com.
Chapter One
There was no possibility of taking a swim that day. My stepmother had planned a sweet sixteen party, and the guests were about to arrive. I'd told Barbara at least a dozen times that I didn't want a party, but she insisted, saying if I didn't have one, I'd regret it later. And now that the day was here, setting a record for heat and humidity that summer, the only thing I regretted was that we didn't have central air- conditioning. That voice inside my head began to call me, that invisible cord tugging at my chest, drawing me to the ocean. But it was almost noon. The swim would have to wait.
Reluctantly, I threw on a tank top, cut-off shorts, and flip- flops and headed downstairs. The first thing Barbara said when she saw my outfit was, "You're not wearing that, are you?"
I looked down at myself. "It would appear that I am."
"No, that won't do," she said, clicking her tongue and studying me as if I was beyond hope. "Go upstairs, honey, and change into something pretty."
I raised my eyebrow at her, taking in the sight of her dramatic eye makeup and her piles of well-sprayed blond hair. Barbara had been raised in the rich and fertile soil of Georgia, fed a steady diet of debutante balls, diamond jewelry, and Dolly Parton hair. Her favorite color was yellow because "it's the color of sunshiiiine "
"I'm perfectly comfortable in this," I said. "Besides, it's, like, a gazillion degrees in here."
"Honey, you don't know heat till you've been to Savannah in summertime. Anyway, that's even more reason to dress in something that'll make you feel pretty." Pretty being the end- all-be-all of life. "Gray Newman's going to be here," she sang.
Oh God. Gray Newman was coming to my party. Gray of the soulful hazel eyes that fooled me into thinking he had hidden depths, when really he was just a spoiled rich kid who spent his summers lifeguarding and seducing the sorority girls. At least, that's what I'd heard; we didn't exactly t.
Why do you think Emma falls into Jane Eyre in particular? What does Jane's world offer her that her real world does not?
Several characters in both Emma's contemporary world and in the world of Jane Eyre are haunted by their pasts. How do guilt and regret affect each of them? What helps them to move on?
Both Emma and Michelle have lost their mothers. How does this bond help them connect? How does each girl deal with her grief?
Michelle does not know her father. How does this affect her sense of belonging and self-esteem?
What is the role of Michelle's Aunt Darlene in the narrative? How does Emma incorporate Darlene's voodoo beliefs into her own story?
Emma treasures her mother's dragonfly necklace. What does the dragonfly represent for her? Why do you think people cling so tightly to mementos with sentimental value?
Describe how Emma's relationship with her father changes throughout the story. What are the reasons for this change?
Many of the students in the novel have hobbies or passions such as horseback riding, writing, swimming, or music, but they are often forced to compete against others. Do you think the competition fostered in high schools is healthy or destructive? Why is it so important for teens to be good at something?
Why is Elise so hostile to Michelle and Emma? Do we ever find any reason to justify her actions, or is she just a villain?
How does the book convey the power of writing? What are some of the purposes writing serves in the book?
On the surface, Gray and Emma seem like opposites. Why do you think opposites often attract? What attracts Emma and Gray to each other?
What is the significance of water in the novel? Consider all the scenes in which water plays a role. How might this relate to Emma and Gray's growth as characters?