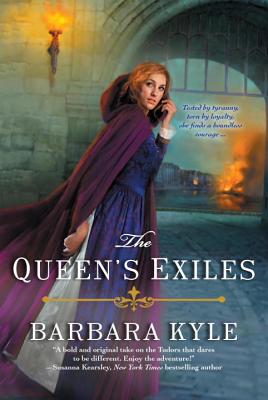 The Queen's Exiles (Thornleigh Saga #6) (Paperback)
Kensington Publishing Corporation, 9780758273246, 346pp.
Publication Date: May 27, 2014
* Individual store prices may vary.
Description
1572. Europe is in turmoil. A vengeful faction of exiled English Catholics is scattered about the continent, plotting to overthrow Queen Elizabeth and install her cousin Mary, Queen of Scots on the throne. And in the Netherlands, the streets are red with the blood of those who dare to oppose the brutal Spanish occupation. But amid the unrest, one resourceful young woman has made a lucrative enterprise. . . Scottish-born Fenella Doorn salvages crippled vessels. It is on one of these ships that she meets wealthy Baron Adam Thornleigh. Secretly drawn to him, Fenella can't refuse when Adam enlists her to join him in war-torn Brussels to help find his traitorous wife, Frances--and the children she's taken from him. But Adam and Fenella will put their lives in peril as they attempt to rescue his young ones, defend the crown, and restore the peace that few can remember. With eloquent and enthralling finesse, Barbara Kyle illuminates one of history's grimmest chapters. The Queen's Exiles breathes new life into an extraordinary age where love and freedom could only be won with unmitigated courage. Praise for Blood Between Queens "Fact and fiction are expertly interwoven in this fast-paced saga. . .this story exudes authenticity." --Historical Novels Reviews "Gifts the reader with an intimate look into the minds and hearts of the royal and great of Elizabeth's England. Again, Barbara Kyle reigns " -New York Times bestselling author Karen Harper "Masterful. . .Gaspworthy treachery and the poignant sweetness of a steadfast love make this a book of quickly and eagerly turned pages." --Sandra Byrd, bestselling author of Roses Have Thorns
About the Author
Barbara Kyle, a classically trained actor, enjoyed a successful career in Canadian television and theater before turning her hand to writing fiction. She is the author of the popular Thornleigh Saga, including The Queen's Lady, The King's Daughter, and The Queen's Captive. She and her husband live in Ontario, where she teaches popular writing seminars and workshops and gives lectures on Tudor history. She welcomes visitors at her website: www.barbarakyle.com.