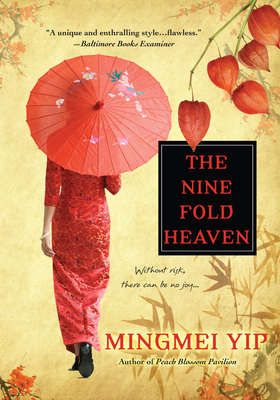 The Nine Fold Heaven
Paperback

* Individual store prices may vary.
Description
""A unique and enthralling style. . .flawless." --Baltimore Books Examiner

In this mesmerizing new novel, Mingmei Yip draws readers deeper into the exotic world of 1930s Shanghai first explored in Skeleton Women, and into the lives of the unforgettable Camilla, Shadow, and Rainbow Chang.

When Shadow, a gifted, ambitious magician, competed with the beautiful Camilla for the affections of organized crime leader Master Lung, she almost lost everything. Hiding out in Hong Kong, performing in a run-down circus, Shadow has no idea that Camilla, too, is on the run with her lover, Jinying--Lung's son.

Yet while Camilla and Shadow were once enemies, now their only hope of freedom lies in joining forces to eliminate the ruthless Big Brother Wang. Despite the danger, Shadow, Camilla, and Jinying return to Shanghai. Camilla also has her own secret agenda--she has heard a rumor that her son is alive. And in a city teeming with spies and rivals--including the vengeful Rainbow Chang--each battles for a future in a country on the verge of monumental change.

"
Kensington, 9780758273543, 326pp.
Publication Date: June 25, 2013
About the Author
Mingmei Yip was born in China and received her Ph.D. from the University of Paris, Sorbonne. She has written for major Hong Kong newspapers, and has appeared on many national and international television and radio programs. She immigrated to the United States in 1992, where she now lives in New York City with her husband. Her novels have been published in ten different languages and she is also an accomplished musician and calligrapher. Visit her at www.mingmeiyip.com.
Why did Camilla risk her life to go back to Shanghai, the city she'd just escaped from?
What is the significance of the episode of the falling toddler?
Why did Camilla start an affair with the American Consul General Edward Miller?
At first, Camilla tries to ignore the little blind girl Peiling, but later desperately tries to find her. Why?
There are many journeys, both external and internal, in Camilla's life. Which are most important?
What is the role of fortune-telling in this novel?
What do you think about Camilla's multiple relationships with men—General Edward Miller, the gangster head's son Lung Jinying, and the bodyguard Gao?
What would it be like to have a husband like Gao the bodyguard?
Is it possible for a woman to love more than one man at the same time?
Are Camilla and her magician partner Shadow friends, enemies, or both?
How does Camilla use her charm and cunning to escape from the many dangers she faces?
Do you think that the staff at Compassionate Grace Orphanage are compassionate?