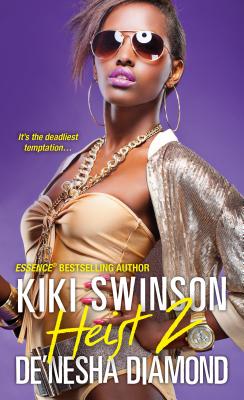 Heist 2 (Mass Market)
Dafina, 9780758280329, 336pp.
Publication Date: December 18, 2018
Other Editions of This Title:
Paperback (9/29/2015)
* Individual store prices may vary.
Description
The Last Heist
 KIKI SWINSON
Shannon Marshall gambled that betraying her husband's biggest heist ever was her way out of the game for good.  Losing that bet put her in lockdown—and at the top of Todd Marshall's revenge-fueled hit list. Now she'll work every seductive move and lethal play to survive. 'Cause when it comes to wreaking her own vengeance, this devious beauty isn't taking any prisoners …
 
Caked Up 
DE'NESHA DIAMOND  
Harlem Banks already has twenty-five million reasons to break out of the federal pen. But saving his desperately ill daughter is at the top of his list, even as he's racing his ex-partner-in-crime to his stashed loot … while U.S. Marshals are hot on his trail. His only chance is the one woman he can't stop loving—even if she's the one endgame he'll never escape …
 
"A definite thrill … will not disappoint." 
—Urban Reviews on Kiki Swinson's Notorious
 
"Diamond's hairpin plot twists, snappy dialogue, sultry sex scenes, and colorful, often hilarious characters keep the pages turning." 
—Publishers Weekly on Heist
About the Author
Kiki Swinson is the nationally bestselling author of over forty novels and short stories. Swinson's works feature resilient women making tough—and sometimes not quite legal—decisions to survive. Her novels, inspired by her experiences and a five‑year stint in federal prison, have sold over 2.4 million copies. She completed her first novel while incarcerated and her second novel, Wifey, went on to become a #1 Essence bestseller and the first installment in one of today's most popular urban series. A native of Portsmouth, Virginia—and a former hustler's wife—Swinson resides in Virginia Beach, Virginia. Visit her online at KikiMedia.net.
 
DE'NESHA DIAMOND is the author of almost a dozen street lit novels and short stories, including the gritty Desperate Hoodwives tales. This edgy Memphis native aims to deliver hope in tales that walk the fine line between glorifying thug life and telling it like it is. Visit De'nesha online at DeneshaDiamond.com.