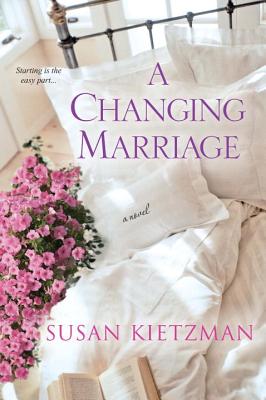 A Changing Marriage (Paperback)
Kensington Publishing Corporation, 9780758281340, 326pp.
Publication Date: February 25, 2014
Description
In this poignant and insightful new novel, the acclaimed author of The Good Life delves beneath the shimmering surface of one couple's evolving marriage. . . Karen Spears and Bob Parsons meet in college and embark upon the kind of enviable, picture-perfect relationship featured in romantic movies. Bob is ambitious and adoring; Karen is bright and beautiful. And nothing seems more natural to them than getting married right after Karen's graduation. Newlywed life meets all of Karen's expectations. Bob's career is soaring and Karen has a fulfilling job of her own--one that's put on hold when she becomes pregnant. But their caring partnership begins to slip away as Bob's single-minded pursuit of the next promotion blinds him to how overwhelmed Karen feels as a stay-at-home mom. When resentment and disenchantment build on both sides, Karen finds herself at a crossroads. What happens when reality erodes your ideal relationship? How do you know when to stay and when to go? And how much can any marriage endure before it becomes just another statistic? Profoundly honest and revealing, A Changing Marriage is a vivid portrait of relationships at their most intricate--and most familiar. Praise for Susan Kietzman's The Good Life "Kietzman's well crafted characterizations give the narrative its depth. . ..Readers will find themselves drawn into the tragedies and triumphs of this fictional family--distinct and yet utterly relatable." --Hartford Books Examiner
About the Author
Susan Kietzman is a Connecticut native. She has a bachelor's degree in English from Connecticut College and a master's degree in journalism from Boston University. She has worked in both magazine and newspaper publishing and currently writes grants for the Mystic Seaport Museum. She lives with her family in Mystic, CT. Readers can visit her website at www.susankietzman.com.
Within minutes of seeing Karen for the first time, Bob knows he is going to marry her. What is the difference between love at first sight and lust?
Bob is the youngest child in his family, and Karen is the oldest of her siblings. How does their birth order affect them as children and as adults?
If Karen and Bob have "a completely honest relationship, one that friends described as extraordinary," why is she attracted to Ray McNamara? What is it about Ray that continues to haunt Karen long into her married life?
Bob loves Rascals, the downtown bar that caters to young professionals, almost as much as his coworker Billy Townsend does. What is Bob attracted to? How does Rascals define his friendship with Billy?
Bob talks Karen into getting pregnant before she is ready, presumably because he wants children. Why does he spend so little time with Rebecca and Robert? Is this a conscious decision?
Karen has a meaningful, genuine friendship with Sarah Keyworth, and a more superficial, convenient friendship with her tennis buddies. Explain how these relationships shape Karen's views and attitudes.
Is Karen a good mother? How do her conflicted views about motherhood affect her parenting abilities? How does her frustration with her situation cross over into her relationship with Bob? Would Karen and Bob's relationship be different if they had chosen to not have children?
What does Karen's job at the local newspaper represent to her? Is her editor, Nick Fleming, a grown-up version of Ray McNamara?
Bob's global business trip presents him with opportunities that challenge his marital vows—yet he comes home resolved to be a better husband and father. What happens to his resolutions?
What does Denise Levy represent to Bob? Do Bob and Karen ever feel guilty about their relationships with Denise and Nick?
When Bob and Karen run into each other at Villa Cesare, their argument is short. Are they more sad than angry?
At the end of the novel, Bob and Karen have lunch together. What happens—and does it signal a new beginning?
Advertisement