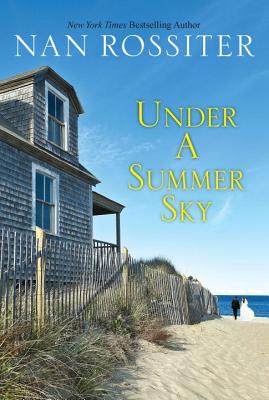 Under a Summer Sky
Paperback

* Individual store prices may vary.
Other Editions of This Title:
MP3 CD (11/25/2014)
Library Binding, Large Print (6/1/2014)
Compact Disc (11/25/2014)
Description
New York Times bestselling author Nan Rossiter transports readers to Cape Cod with a warm, compelling story of family, new beginnings, and finding the courage to love honestly and well. . . The old Cape Cod house that Laney Coleman shares with her minister husband Noah and their five boys is usually brimming with cheerful chaos. There's nothing fancy about the ancient kitchen or the wooden floors scuffed by the constant parade of activity and the clicking claws of their two Labrador retrievers. It's a place to savor the sea breeze wafting through the windows, or sip coffee on the porch before another hectic day begins. This summer, life promises to be even busier than usual, because Noah's younger brother, Micah, wants to hold his upcoming wedding on their property. Though thrilled that Micah has found happiness after past heartache, Laney is apprehensive about having her home turned upside down. She has other concerns too--her youngest son is being bullied at school, and Noah's father is not the robust patriarch he once was, in mind or body. As the bride and groom's large, close-knit families gather, there will be joyful celebration but also unexpected sorrows and revelations, and a chance to store up a lifetime of memories during the fleeting, precious days of summer. . . Praise for the novels of Nan Rossiter "A gripping story of three sisters, of love lost and found and a family's journey from grief to triumph. A sure winner." --Debbie Macomber, #1 New York Times bestselling author on More Than You Know "Eloquent and surprising. . .I love this story of faith, love, and the lasting bonds of family." --Ann Leary, author of The Good House on The Gin & Chowder Club
Kensington Publishing Corporation, 9780758283917, 342pp.
Publication Date: April 29, 2014
About the Author
Nan Rossiter was born in Mount Vernon, New York. She grew up in Pelham, New York, and in Barkhamsted, Connecticut. From a young age she loved to draw. After high school, she attended Rhode Island School of Design and graduated with a BFA in illustration. After working in the freelance field and creating art for internationally recognized companies such as Viking, MasterCard, and UPS, Nan began writing and illustrating books for children. She is the author-illustrator of several children's books, including, most recently, The Fo'c'sle: Henry Beston's "Outermost House." Nan lives in rural Connecticut with her husband and two handsome sons. When she's not working, she enjoys hiking with her family or reading a good book. Visit her website at www.nanrossiter.com.
Faith is a predominant theme in this book. Do you think people shy away from openly talking about their faith? Why?
Many people are turned off by religion and don't even like to see it included in books. It seems Christianity is increasingly a target for oppression—especially at Christmastime. Why is this happening? Do you think it plays a role in the decline of our society?
One night at dinner, Asa, Maddie, Micah, and Beryl discuss the behavioral problems of today's children. Asa blames the lack of discipline in the home and the breakdown of the family structure; Maddie, on the other hand, believes the inherent personality of the child must also be considered. With whom do you agree? Why?
Asher witnesses Jeff telling Jared he is going to kill him. Do you think if Asher had told someone it would have made a difference? In today's society, threats are often taken lightly. How should this issue be addressed?
After Jared's funeral, Noah and Laney have a similar discussion. Laney believes the world is a safer place without Jared. Noah counters that if Jared had been placed in a loving home and taught responsibility, he could have been rehabilitated. Who do you think is right? Do you think a boy like Jared—who seems inherently cruel—can be rehabilitated?
Laney worries that Asher will be a victim of cyber bullying someday. At the same time, she's dismayed when he reveals he might not want a Facebook page. How has cyber bullying become a problem in our society and is there a way to prevent it?
One theme that threads through the book is the struggle to be forthcoming. Laney, Asa, and Asher all withhold critical information. Discuss their reasons and the impact their decisions have on others. Do you agree with their decisions?
From the beginning, it is clear that Noah feels very strongly about being honest and forthcoming . . . no matter what the consequences. In the end, his conviction is shaken. What is his dilemma and how is it resolved?
The Coleman household is often filled with chaos, or as Noah likes to call it, "blessed pandemonium." Our lives, too, are filled with appointments, meetings, deadlines, and demands; and the overwhelming expansion of technology only seems to exacerbate the situation. Do you ever wish for simpler times? What are some ways we can slow down and get back to the basics?