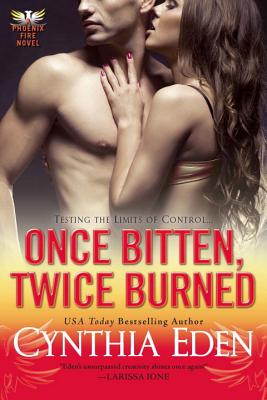 Once Bitten, Twice Burned (Paperback)
Brava, 9780758284075, 352pp.
Publication Date: April 29, 2014
Description
"Eden's unsurpassed creativity shines once again " --Larissa Ione
Blood--And Lust
Ryder Duncan keeps his secrets. With a twisted scientist starving him in a 10 x 12 cell, it's not easy to conceal the abilities that set him apart from other vampires, or his plans for escape. But survival--and revenge--are worth waiting for. Until the so-called doctor tempts his appetites with something special: a woman, with a soft Southern accent and a scent like flowers. Sabine.
Sabine Acadia didn't volunteer to be dinner. She was kidnapped and tossed into the cage of a monster. A monster with fierce green eyes, a body that speaks of ruthless power--but a touch gentle as a caress. Ryder knows things about her, secrets Sabine needs to learn fast. Because while they might soon escape this prison, she's fighting an urge to set all her desires free. . .
Praise for Cynthia Eden's novels
"Cynthia's on my must-buy list." --Angie Fox
"A fast-paced, sexy thrill ride you won't want to miss." --Christine Feehan on Eternal Hunter
About the Author
Award-winning author Cynthia Eden writes dark tales of paranormal romance and romantic suspense. She is a New York Times, USA Today, Digital Book World, and IndieReader best-seller. Cynthia is also a three-time finalist for the prestigious RITA(R) award . Since she began writing full-time in 2005, Cynthia has written over fifty novels and novellas. Visit her online at www.CynthiaEden.com.
Advertisement