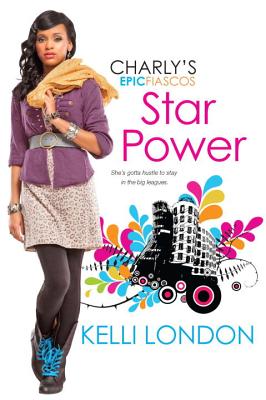 Star Power (Charly's Epic Fiascos)
Paperback

* Individual store prices may vary.
Description
Charly St. James takes on her biggest challenge yet when her television show goes for a ratings sweep by making over the life of a not-so-willing small-town teen with a big secret. . .

Charly St. James is on top, and she's determined to keep it that way. That's why she and the producers have come up with a plan to take The Extreme Dream Team to the next level--by turning loners into VIPs. After all, how can you enjoy your new digs if your life is jacked up?

But when Charly meets her first makeover, Nia, she knows she'll have to do more than dress her up and boost her self-esteem. Nia is living in the shade of her twin sister, who is luxuriating in a major case of pretty girl syndrome. And the more Charly tries to get Nia to shine, the more her twin sabotages her mission. Good thing Charly loves a challenge, 'cause these twins' troubles are more than skin deep. . .

Praise For Kelli London

"An amazing tale that is sure to delight, teach, and intrigue teens everywhere!" --Ni-Ni Simone on Boyfriend Season

"Kelli reinvents the urban heroine--she's cuter, smarter, fearless. Excellent read." --Travis Hunter, author of On the Come Up
Kensington -Teen/Dafina, 9780758286994, 224pp.
Publication Date: July 30, 2013
About the Author
Kelli London, aka Kells, has been writing since she was six years old. She's pro anything that uplifts girls (ok, boys too), is a mentor for A Dream Inc. (a non-profit organization for teens), and creator of Kelli Girls' Pearls—gems for a girl to live by: Positive Affirmations & Daily Quotes. She lives in The Moment, is a social butterfly (social networking and newsletter butterfly too), has a passion for education, reading, writing, running, chocolate, life and, of course, her readers.