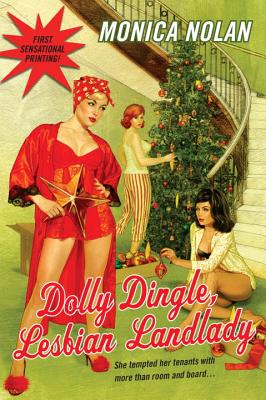 Dolly Dingle, Lesbian Landlady (Career Girl #4) (Paperback)
Kensington, 9780758288318, 256pp.
Publication Date: September 30, 2014
* Individual store prices may vary.
Description
At the Magdalena Arms Residence for Women, desires are awakened, passions run hot, and love might be waiting just a few doors away. . .

Dorian "Dolly" Dingle has been footloose and flighty for long enough. At last, she's resolved to focus on her showbiz career and move out of the Magdalena Arms. Then landlady Mrs. DeWitt breaks her hip, and Dolly reluctantly agrees to fill in as temporary housemother. While she grapples with home repairs and holiday preparations, Dolly tends to the needs of her diverse tenants, including:

Jackie – The aspiring actress always puts on an impressive performance

Kay – Dolly's old friend is an accomplished clarinetist--and she's hoping they'll make sweet music together. . .

Arlene – She's a buxom theater designer with some very dramatic secrets

Ramona – The former bad girl is back in Bay City and making tongues wag again

When the high-spirited residents learn of a scheme to shut down their beloved rooming house, they rally together to raise funds. Can a Christmas variety show save the only home Dolly has ever known? And will she finally find the perfect girl to occupy her heart?
About the Author
Monica Nolan has written about film and culture for Release Print, Bitch: Feminist Response to Pop Culture, Lambda Literary, and the San Francisco Chronicle. Her short story collection, The Big Book of Lesbian Horse Stories (co-authored with Alisa Surkis), was nominated for a Lambda Award. She lives in San Francisco and blogs about lesbian pulp fiction at www.monicanolan.com/pulppep.