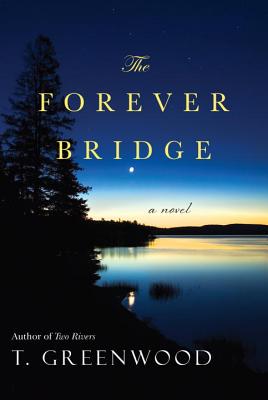 The Forever Bridge
Paperback

* Individual store prices may vary.
Description
"I loved The Forever Bridge from its first beautiful sentence to its breathtaking final one."
—Ann Hood

With eloquent prose and lush imagery, T. Greenwood creates a heartfelt story of reconciliation and forgiveness, and of the deep, often unexpected connections that can bring you home.

Sylvie can hardly bear to remember how normal her family was two years ago. All of that changed on the night an oncoming vehicle forced their car over the edge of a covered bridge into the river. With horrible swiftness, Sylvie's young son was gone, her husband lost his legs, and she was left with shattering blame and grief.

Eleven-year-old Ruby misses her little brother, too. But she also misses the mother who has become a recluse in their old home while Ruby and her dad try to piece themselves back together. Amid all the uncertainty in her life, Ruby becomes obsessed with bridges, drawing inspiration from the strength and purpose that underlies their grace. During one momentous week, as Hurricane Irene bears down on their small Vermont town and a pregnant teenager with a devastating secret gradually draws Sylvie back into the world, Ruby and her mother will have a chance to span the gap between them again.
Praise For The Forever Bridge…
Outstanding Praise for the novels of T. Greenwood
 
Bodies of Water
 
"A wrenching look at what happens when two people fall in love in the wrong place at the wrong time… Beauty and tragedy at the same time, darkness then light — those are Greenwood hallmarks. The author now of seven novels, she's terrific with characters, with the multiple textures that make someone seem human on the page. She has some interesting things to say here about memory, and the ending is as moving as anything she's written." – The San Diego Union Tribune
 
"Greenwood's sixth novel, a tale of love and loyalty, owes its success to the poetic prose, as well as the compelling chronology she employs... This compassionate, insightful look at hope and redemption is a richly textured portrait. This gem of a story is a good choice for those who enjoy family novels." – Library Journal
 
"Greenwood's latest is a beautiful, albeit earth-shattering testament, to survival during an era in which homosexual relationships are nearly forbidden. The prose is beautiful as always, painting a lush portrait of the relationship between Billie and Eva, as well as of 1960s New England."– RT Book Reviews
 
"Evocative, poignant and precise prose makes this story of love between two simply ordinary women trapped in complicated circumstances way more than the sum of its parts." – OutSmart
 
"The love story that plays out between the two women--at times tragic, at times beautiful--is rightly taboo for the early-60's setting." – San Diego Reader
 
"T. Greenwood has created a heart-breaking love story that will resonate in my mind for a very, very long time.  Her characters are vibrant and believable in both their love and their cruelty.  While it's set in the late 50s and early 60s, there are so many issues that still, sadly, stand today.  This is not a typical love story, and it will make you angry, sad, joyous, confused, afraid, misty-eyed and disgusted no matter what side of the issues you identify with.  I don't want to tell you more, I want you to read this book and experience the careful reveals that this author writes so very, very well.  T. Greenwood just gets better and better with every book." – Jackie Blem, The Tattered Cover Bookstore
 
"Powerfully written, haunting and lyrical, Bodies of Water is best when it gives us an unflinching look a time in history that is still mostly painted with idyllic hues, when the fledgling pushback of women against patriarchal values was only just beginning." – LitStack
 
"Deliciously good." – AfterEllen
 
 
Grace
 
"A story of extreme pain, honesty and true humanity; every tender shard is written with such precision and poetry it is a tale not to be put down until it says so. It would be a great read for the darker months but the writing is so well-crafted any time of year works." – San Francisco Book Review
 
"T. Greenwood has an uncanny ability to reach into her characters' souls, making them flawed but completely sympathetic. Her latest book Grace deals with a family on the verge of collapse. Their secrets and lies build upon one another until there is nothing left but dust. This searing portrait makes this novel an absolute must-read." – SheKnows
 
"A novel with multiple layers — harrowing, heartfelt and ultimately so realistically human in its terror and beauty that it may haunt you for days after you finish it. San Diego novelist T. Greenwood has another gem here." – San Diego Union Tribune
 
"Greenwood's harrowing study of a troubled family on the brink of disaster is exceptionally well observed; her skillful use of imagery and foreshadowing sharpens the focus on the Kennedy's dysfunction and avoidance of communication. Readers who enjoy insightful and sensitive family drama will appreciate discovering Greenwood." – Library Journal
 
"Greenwood's latest will have readers wide-eyed in anticipation and near-horror after reading the opening chapter, as they wonder how in the world a father can possibly consider shooting his own son. The multiple perspectives allow us to gain an insight into how the characters view one another. This novel will keep readers rapt until the very end as Greenwood circles back to the opening scene with Kurt and Trevor standing in the snowy field. Shocking and honest, you're likely to never forget this book." – RT Book Reviews, 4.5 Stars, TOP PICK!
 
 
Nearer than the Sky
 
"Greenwood is an assured guide through this strange territory; she has a lush, evocative style." – The New York Times Book Review
 
"A lyrical investigation into the unreliability and elusiveness of memory centers Greenwood's second novel... The kaleidoscopic heart of the story is rich with evocative details about its heroine's inner life." – Publishers Weekly
 
"Compelling... Highly recommended." – Library Journal
 
"Doesn't disappoint.  A complicated story of love and abuse told with a directness and intensity that packs a lightning charge." – Booklist
 
"Greenwood's writing is lyrical and original.  There is warmth and even humor and love. Her representation of MSBP is meticulous." – San Diego Union Tribune
 
"Deft handling of a difficult and painful subject...compelling." – Kirkus Reviews
 
"Potent...Greenwood's clear-eyed prose takes the stuff of tabloid television and lends it humanity." – San Francisco Chronicle
 
 
This Glittering World
 
"Stark, taut, and superbly written, this dark tale brims with glimpses of the Southwest and scenes of violence, gruesome but not gratuitous. This haunting look at a fractured family is certain to please readers of literary suspense." – Library Journal (starred)
 
 
Undressing the Moon
 
"This beautiful story, eloquently told, demands attention." –Library Journal (starred review)
 
"A lyrical, delicately affecting tale." –Publishers Weekly
 
"Rarely has a writer rendered such highly charged topics…to so wrenching, yet so beautifully understated, an effect… T. Greenwood takes on risky subject matter, handling her volatile topics with admirable restraint… Ultimately more about life than death, Undressing the Moon beautifully elucidates the human capacity to maintain grace under unrelenting fire." – The Los Angeles Times
 
 
The Hungry Season
 
"This compelling study of a family in need of rescue is very effective, owing to Greenwood's eloquent, exquisite word artistry and her knack for developing subtle, suspenseful scenes… Greenwood's sensitive and gripping examination of a family in crisis is real, complex, and anything but formulaic." – Library Journal (starred review)
 
"A deeply psychological read." – Publishers Weekly
 
"Can there be life after tragedy? How do you live with the loss of a child let alone the separation emotionally from all your loved ones? T. Greenwood with beautiful prose poses this question while delving into the psyches of a successful man, his wife, and his son… This is a wonderful story, engaging from the beginning that gets better with every chapter." –  The Washington Times
 
 
Two Rivers
 
 "Greenwood is a writer of subtle strength, evoking small-town life beautifully while spreading out the map of Harper's life, finding light in the darkest of stories." –  Publishers Weekly
 
"A complex tale of guilt, remorse, revenge, and forgiveness… Convincing… Interesting." – Library Journal
 
"Two Rivers is reminiscent of Thornton Wilder, with its quiet New England town shadowed by tragedy, and of Sherwood Anderson, with its sense of desperate loneliness and regret… It's to Greenwood's credit that she answers her novel's mysteries in ways that are believable, that make you feel the sadness that informs her characters' lives." – Bookpage
Kensington, 9780758290533, 368pp.
Publication Date: February 24, 2015
About the Author
T. Greenwood is the author of nine critically acclaimed novels. She has received numerous grants for her writing, including a National Endowment for the Art Literature Fellowship and a grant from the Maryland State Arts Council. She lives with her family in San Diego, California, where she teaches creative writing, studies photography, and continues to write. Her website is www.tgreenwood.com.