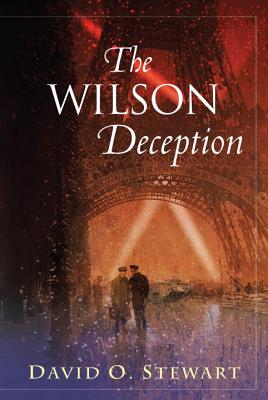 The Wilson Deception (Hardcover)
Kensington Publishing Corporation, 9780758290694, 304pp.
Publication Date: September 29, 2015
Other Editions of This Title:
Paperback (8/30/2016)
Compact Disc (9/29/2015)
MP3 CD (9/29/2015)
* Individual store prices may vary.
Description
Terrific Thebook sfun part is its name game, as familiar historic figures mingle with made-up characters The storyline's dangling threads are braided into a tight, clever finish, worthy of a vintage spy caper or 007's own playbook. Now which president will Stewart select for his next escapade?
The Washington Post
Against the backdrop of the Paris Peace Conference that would remake Europe in the wake of World War I, David O. Stewart reunites Dr. Jamie Fraser and Speed Cook, protagonists of the acclaimed The Lincoln Deception, in an intriguing presidential mystery
After four years of horror The Great War has ended, and President Woodrow Wilson's arrival in Paris in December 1918 unites the city in ecstatic celebration. Major Jamie Fraser, an army physician who has spent ten months tending American soldiers, is among the crowd that throngs the Place de la Concorde for Wilson's visit. As an expert on the Spanish influenza, Fraser is also called in to advise the president's own doctor on how best to avoid the deadly disease. Despite his robust appearance, Wilson is more frail than the public realizes. And at this pivotal moment in history, with the Allied victors gathering to forge a peace treaty, the president's health could decide the fate of nations.
While Fraser tries to determine the truth about Wilson's maladies, he encounters a man he has not seen for twenty years. Speed Cook ex-professional ball player and advocate for Negro rights is desperate to save his son Joshua, an army sergeant wrongly accused of desertion. Pledging to help Cook, Fraser approaches Allen Dulles, a charming American spy who is also Wilson's close aide. Soon Cook and Fraser's personal quest will dovetail with the dramatic events unfolding throughout Paris, as French premier Georges Clemenceau narrowly survives an assassination attempt and peace negotiations begin to unravel. Rivalries and hidden agendas abound. At stake is not only Joshua Cook's freedom, but the fragile treaty that may be the only way to stop Europe from plunging into another brutal war.
With a cast of vividly drawn characters that includes T.E. Lawrence, David Lloyd George, and Winston Churchill, David O. Stewart's fast-paced novel is a riveting and expertly researched blend of history and suspense illuminating, deftly plotted, and thoroughly satisfying.
About the Author
David O. Stewart is the author of several works of history, most recently Madison's Gift: Five Partnerships That Built America, which have been awarded the Washington Writing Award and the Society of the Cincinnati History Prize. He lives in Maryland and his website is at www.davidostewart.com."
or
Not Currently Available for Direct Purchase