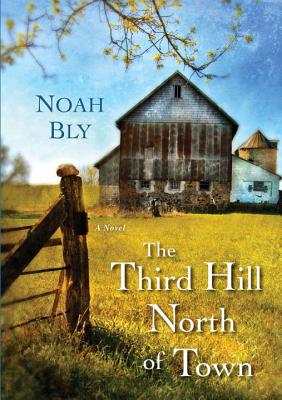 The Third Hill North of Town
Paperback

* Individual store prices may vary.
Description
Set against the turbulent backdrop of the 1960s, Noah Bly's evocative debut explores prejudice, loss, and redeeming courage through the prism of an unlikely friendship.



When fifty-four-year-old Julianna Dapper slips out of a mental hospital in Bangor, Maine, on a June day in 1962, it's with one purpose in mind. Julianna knows she must go back to the tiny farming community in northern Missouri where she was born and raised. It's the place where she and her best friend, Ben Taylor, roamed as children, and where her life's course shifted irrevocably one night long ago.



Embarking on her journey, Julianna meets Elijah Hunter, a shy teenaged African-American boy, and Jon Tate, a young hitchhiker on the run from the law. The three become traveling companions, bound together by quirks of happenstance. And even as the emerging truth about Julianna's past steers them inexorably toward tragedy, their surprising bond may be the means to transform fear and heartache into the strength that finally guides Julianna home.



The Third Hill North of Town is a haunting, imaginative story of human connection and coincidence--a poignant and powerful novel that ripples with wit and heart.



Advance Praise For The Third Hill North Of Town



"A brilliant combination of chaos and coincidence. With fresh language and uniquely imperfect characters, Noah Bly weaves a story of a cross-country trek that is both improbable and believable. This fresh, engrossing novel left me convinced of the power of memory, even as it arises from a disturbed mind, and taught me--as Bly promises--the wisdom of faith in the ridiculous." --Anna Jean Mayhew, author of The Dry Grass of August



"This is an eerie, haunting, beautifully realized novel populated by charming misfits and eccentrics." --Joseph Olshan, author of Cloudland



"Once The Third Hill North of Town turns over its engine, readers will do well to secure their grip on themselves, their loved ones, and any notions they have about guilt and innocence, truth and trust, convenience and blame. By its end, Bly's whirlwind challenges much of what we believe without necessarily meaning to, including those comfortable views on the infinite gradations we lump under the banner of mental illness, including racism. A hell of a journey." --Kyle Beachy, author of The Slide



"What a wild ride this novel is! The Third Hill North of Town grabs hold and doesn't let go. A story of the tragedy and beauty of coincidence and circumstance, this novel is one that brings the unlikeliest characters together in a way that is somehow both surprising and meaningful." --T. Greenwood, author of Bodies of Water



"Noah Bly takes readers on an unforgettable ride through America. Well written, page-turning, and hard to put down!" --Jim Kokoris, author of The Pursuit of Other Interests

"A glorious, madcap American road novel in the picaresque tradition, The Third Hill North of Town explores a dark uncharted territory where vengefulness and desire and coincidence and consequence blow wild through human hearts, tossing people together and tearing them apart. Think On the Road written by Flannery O'Connor. A profound meditation on the sanctity of improvised friendships."--Stephen Lovely, author of Irreplaceable
Kensington, 9780758290779, 400pp.
Publication Date: February 25, 2014
About the Author
Noah Bly, the author of The Third Hill North of Town, was born in Wheatland, Wyoming, in 1972. He now lives in Iowa City, Iowa, with his wife, Sarah, and their son, Willie.
Does The Third Hill North of Town fit into a specific genre? Is it a crime novel? A tragedy? A dark comedy? An action-adventure story? What best describes it?
Which of the three main characters—Julianna Dapper, Elijah Hunter, or Jon Tate—is the strongest? The most vulnerable? The easiest to care about? Of all the minor characters, is there one that is particularly appealing (or repelling)?
Is there a discernible theme to this novel? If so, what would it be?
Throughout the story, Coincidence is referred to many times as a type of deity, almost like the trickster character Coyote in various Native American mythologies. What does this contribute to the overall narrative?
Edgar Reilly's Edsel Ranger and Chuck Stockton's Volkswagen Beetle are very much part of this novel, possessing distinct "personalities" of their own. Why do you think the author chose these particular automobiles for this story?
The interludes all take place in 1923, as opposed to the rest of the book, which is set in 1962. How does the author weave these separate timelines together to tell Julianna's story? Why are the interludes interspersed throughout the novel instead of just having the 1923 story be told all at once?
Julianna, Jon, and Elijah—a trio of misfits—become very close over the course of the novel, though in reality they are only together for two days. Why do you think they bond the way they do? What does each of them gain from the others?
In a sense, every character in this book can be seen as emotionally damaged. Who is the least damaged? The most?
As the story progresses, several characters noticeably change, for either good or bad. What are some examples of this? Which character changes the most?
Much that happens in this book is bittersweet, including the ending. What do you think the author is trying to convey about the nature of friendship and the passage of time?