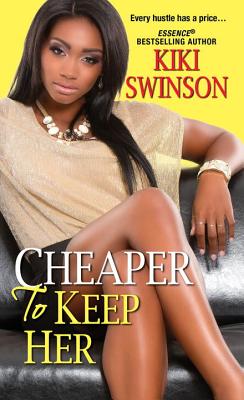 Cheaper to Keep Her (Paperback)
Dafina, 9780758293831, 320pp.
Publication Date: August 25, 2015
* Individual store prices may vary.
Description
"Kiki captures the heat of the streets."
—Wahida Clark
 
The night Duke Carrington walked into the Magic City strip club in Portsmouth, Virginia, Lynise Washington was working her usual bartending shift. But there was nothing routine about Duke. Wealthy, charming, and persuasive, he soon swept her off her feet. He wined and dined her, and eventually invited her to move out of her low-budget rental and into his luxury condo. Then he convinced her to quit her job. The future was looking bright. But just as Lynise was getting used to five star restaurants and VIP treatment, Duke was getting ready to replace her with a rival she didn't even know she had…
 
An infamous heavy hitter, Duke was used to getting everything he wanted, no matter the cost. But Lynise got everything she wanted too. And soon she'd prove to Duke that it would have been cheaper to keep her…
About the Author
KIKI SWINSON discovered her flair for writing after completing her first novel, Mad Shambles, while serving a five-year sentence at a federal prison. After being released, Kiki self-published Mad Shambles. Her passion for writing didn't stop there. Her second novel, Wifey, became the first book in one of today's best-selling street lit series. The Wifey series has a total of five installments. Taking a break from the Wifey series, Kiki also began five more series. The first title in each of those series: The Candy Shop, Playing Dirty, Wife Extraordinaire, Cheaper to Keep Her, and New York's Finest. Kiki also contributed novellas to Sleeping with the Enemy, Heist, Lifestyles of the Rich and Shameless, A Gangster and a Gentleman, Most Wanted, Still Candy Shopping, and Fistful of Benjamins. Visit Kiki online at KikiSwinson.net.
Praise For Cheaper to Keep Her…
Praise For Kiki Swinson
"Kiki Swinson is unstoppable…Kiki always delivers a sizzling read." —Essence® bestselling author Crystal Lacey Winslow
"After reading The Candy Shop, all I could say was scandalous!" —K'wan, bestselling author of Animal
or
Not Currently Available for Direct Purchase