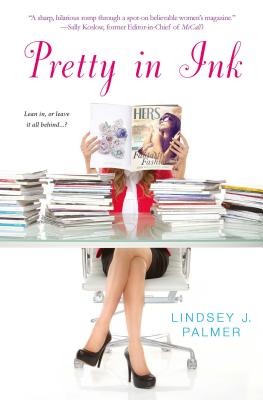 Pretty in Ink (Paperback)
Kensington, 9780758294333, 304pp.
Publication Date: March 25, 2014
* Individual store prices may vary.
Description
"A sharp, hilarious romp through a spot-on believable women's magazine." --Sally Koslow, former Editor-in-Chief of McCall's



"An essential novel.  .  .engaging, sensitive, and so much fun.  .  .I wanted to hang out with the women of Hers Magazine long after I'd turned the last page." –Diana Spechler, author of Skinny



For years, Hers magazine has been a fixture on newsstands--relatable, reliable, and ever-so-slightly frumpy. But with sales slumping, Hers' editor-in-chief soon finds a pink slip in her inbox. And her ruthless, blisteringly high-heeled replacement may not be finished cleaning house yet.  .  .



Leah Brenner suspects she won't be on the payroll much longer either. A telecommuting, breast milk-pumping mom of three doesn't mesh with her new boss Mimi's vision of a sleeker, younger-skewing Hers. Not content with nabbing Leah's office, Mimi's protégée, Victoria, is itching to take over Leah's duties too--and she's not alone. As the summer rolls out, and staffers are asked to give up even their sexiest secrets to save the brand, everyone at Hers--the sycophantic new assistant; the photo editor who's sleeping with her boss; the Ivy League intern with oversized aspirations--will fight to keep her career, and some shred of dignity, intact.



Smart, perceptive, and hilarious, Lindsey Palmer's debut delivers an all too true-to-life tale of very different women faced with high-stakes choices in a rapidly changing--yet utterly familiar--world.  .  .



"Tantalizing.  .  .Pretty in Ink is part comic love story and part bloody valentine." ??Devan Sipher, New York Times "Vows" columnist and author of The Wedding Beat
About the Author
Lindsey J. Palmer is a writer, editor, and educator. She worked in the magazine industry for seven years, most recently as Features Editor at Self, and previously at Redbook and Glamour. A graduate of the University of Pennsylvania, she earned a Master of Arts in English Education from Teachers College, Columbia University, and taught A.P. Literature and Creative Writing at a Manhattan public school for three years. Nowadays she's a scriptwriter at BrainPOP, an animated educational site for kids, which means she spends her days researching topics as diverse as Nuclear Fusion, Emily Dickinson, and the Tuskegee Airmen, and then translating what she's learned into an engaging, narrative format. Lindsey lives in Brooklyn with her husband. Visit her at lindseyjpalmer.com and www.facebook.com/lindseyjpalmerauthor.
or
Not Currently Available for Direct Purchase